Going Offbeat in Santiniketan
Santiniketan is a place that never gets old. I went there for the first time in 2017 and again in March 2021, I made my second trip to the land established by Debendranath Tagore, father of the Rabindranath Tagore, and where Gurudev Rabindranath founded his dream project – the Visva-Bharati University.
It was his father who had come to Bolpur and built a guest house and named it Santiniketan. Gradually the name was used to denote the entire area. In 1901, the visionary man, Rabindranath Tagore, came here and settled down. He then started a school for children, Brahmacharyaashrama, which is now known as Patha Bhavan. It expanded and finally grew into Visva-Bharati University in 1921.
The following lines are from his speech known by the title, My School, delivered in America in 1915 where he explained what he felt about life in Kolkata (previously known as Calcutta) and why he chose Santiniketan to start his school.
"I selected a beautiful place, far away from the contamination of town life, for I myself, in my young days, was brought up in that town in the heart of India, Calcutta, and all the time I had a sort of homesickness for some distant lane somewhere, where my heart, my soul, could have its true emancipation… I knew that the mind had its hunger for the ministrations of nature, mother-nature, and so I selected this spot where the sky is unobstructed to the verge of the horizon. There the mind could have its fearless freedom to create its own dreams and the seasons could come with all their colours and movements and beauty into the very heart of the human dwelling."
—– Source
Being a city dweller as well as a nature lover, I can feel how intense was Tagore's desire for Santiniketan. When Barshan, one of my workmates, apprised me in a call that he has planned to spend a weekend clubbed with Holi in Santiniketan, I immediately asked him whether I can join him or not. If there's an opportunity to visit this rich place, then why miss it.
Our trip was not a conventional one. We neither stayed at a hotel nor a resort. It was Barshan who had found a host through CouchSurfing. Pratyush was our host. He is a practicing artist who currently lives in Milon Mela Theatre House, which is next to Rangabitan Tourist Complex near Amar Kutir Society. It takes around 30-40 minutes from Bolpur station to reach this place. The theatre house has been founded by Mr. Abani Biswas, who is an art director. The campus is huge. It's a calm and beautiful place situated in a village away from the hustle and bustle of Santiniketan.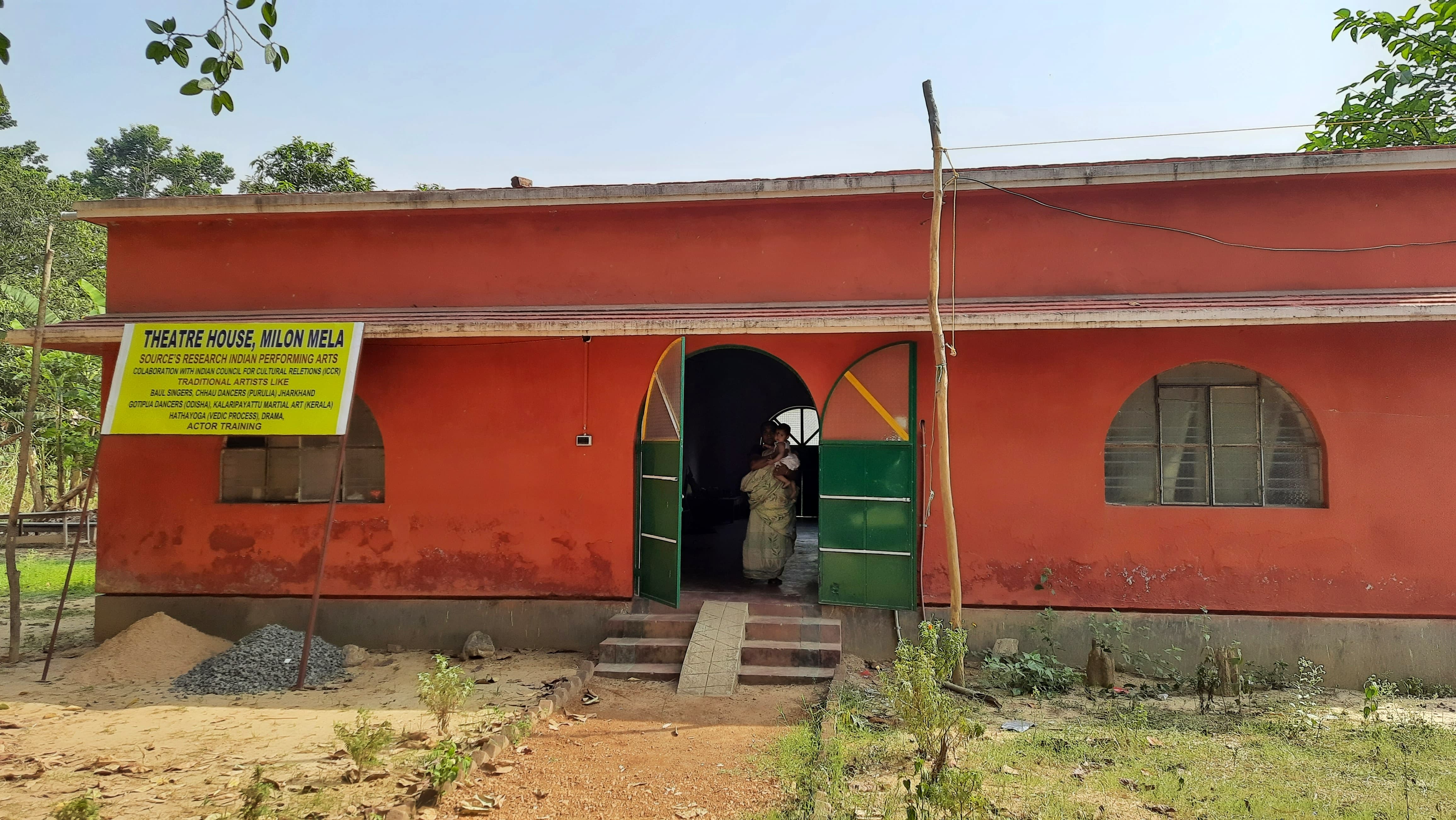 We reached Bolpur on Friday, 26th March in the late evening, had our dinner and went to the theatre house. Our host welcomed us and took us to our room. While we were having chitchat with him, we asked him a lot of questions like what do people who live in this theatre house do, what their end goals are and how do they spend their daily life in this remote place. Of course, all of our questions weren't addressed at that spot but we eventually got a better clarity.
The next morning we met some of the other artists living there. We had our morning chai and went to a ground where they were practicing Kalari (an Indian martial art). After lunch, we went to Sonajhuri where a bazaar amidst the trees gets organized every Saturday (sonibarer haat) from the afternoon till the evening. Local artisans come here to sell their products, mostly handicraft stuff. Baul singers scattered across the haat performed and visitors danced to the rhythm.
Actually, we went to Uttarayan Rabindra Bhavan which resides within the Visva-Bharati University campus, before going to Sonajhuri. But we couldn't get inside it since the entire campus was closed due to the Covid-19 restrictions. The pandemic made our trip go more offbeat otherwise the university campus is common in everyone's itinerary. The campus comprises a lot of old buildings, museums, and art galleries. We missed all of that this time, but anyway we got to enjoy the rural and uncrowded side of Santiniketan.
Barshan shortlisted two outlets for dinner. Manoj da'r bari was first on our list and then Kasahara cafe. We went to Manoj da'r bari and got to know he was not in the town. So, we walked down a dirt path to Kasahara. They serve great food but their service was incredibly slow (we waited for 50 minutes).
We were at a baul concert at night in a nearby village. It was a 15 minutes walking distance from where we were staying. Till now, we explored a lot throughout the day and had mixed experiences. But this place was different. The weather was cool and windy. The stage with a few mud huts and tents nearby were all surrounded by the farmlands. The light of the full moon spilled all over us. I could hear the chirps and squeaks of insects. I sat under a tree decorated with fairy lights and had a wholesome musical experience.
Artists from all over the Bengal came here to perform. Among the many good performances, here is my favorite one. Do watch it.
This is my favorite verse from the song – "Bhojibo tomar ranga choron".
বুদ্ধের বৌদ্ধ ধর্ম অহিংসা পরম ধর্ম
যোগী ঋষি যোগ সাধনে জঙ্গলে গমন
আল্লাহ কি আলী কালা কি কালী
যত সব দলাদলি তোমারই কারণ।।
It was Holi on Sunday, and local baul singers came and performed inside the campus. Barshan and I along with the members of the theatre house played Holi and danced together.
Pratyush had told us that they practise music every evening and asked us to join them. The room had a single source of light that was a candle. It was too dark to take a picture. We sat encircling the candle and Sanyasi baul started the session. It went on flowing for an hour. It was an amazing experience I had.
Two days in Santiniketan went so fast. Our train to Howrah was on Monday, 29th March. We had a refreshing time there. Got to learn about different cultures, met new people, and explored rural Bengal.