Mysore - The Royal City of Karnataka
We traveled by train from Bangalore to Mysore, a journey that took around two hours. Boarding the Chennai-Mysore Vande Bharat Express from SBC/KSR (Bangalore City) Railway Station, I had a pleasant first-time experience on this train. Though it ran at an average speed of 100 km/h, I expected it to go faster. However, I later learned that there are speed limits for the Vande Bharat Express. On the Delhi-Bhopal route, it runs at a maximum speed of 160 km/h, while on other routes, it travels at speeds ranging from 110 to 130 km/h.
After living in Bangalore for a year and three months, I received numerous recommendations from locals to visit Mysore. As a city of royals and palaces, it is a must-visit weekend destination that's only 150 km away from Bangalore. During our stay in Mysore, we chose to stay at Mannar's Deluxe Lodge, which is located in the city center. The lodge provides clean, spacious rooms but does not have a restaurant on site. However, room service is available, and we were pleased with the delicious and reasonably priced food that was delivered to our room.
Day 1 #
On the day of our arrival in Mysore, we hired an outstation Uber cab to visit the Daria Daulat Bagh located in Sriranganapatna. This palace served as one of Tipu Sultan's summer retreats; the other one is in Bangalore. The Daria Daulat Bagh palace exemplifies the Indo-Saracenic style of architecture and is constructed mainly using teakwood. One of the palace's most remarkable features is the intricate frescoes adorning the walls, pillars, arches, and jharokas.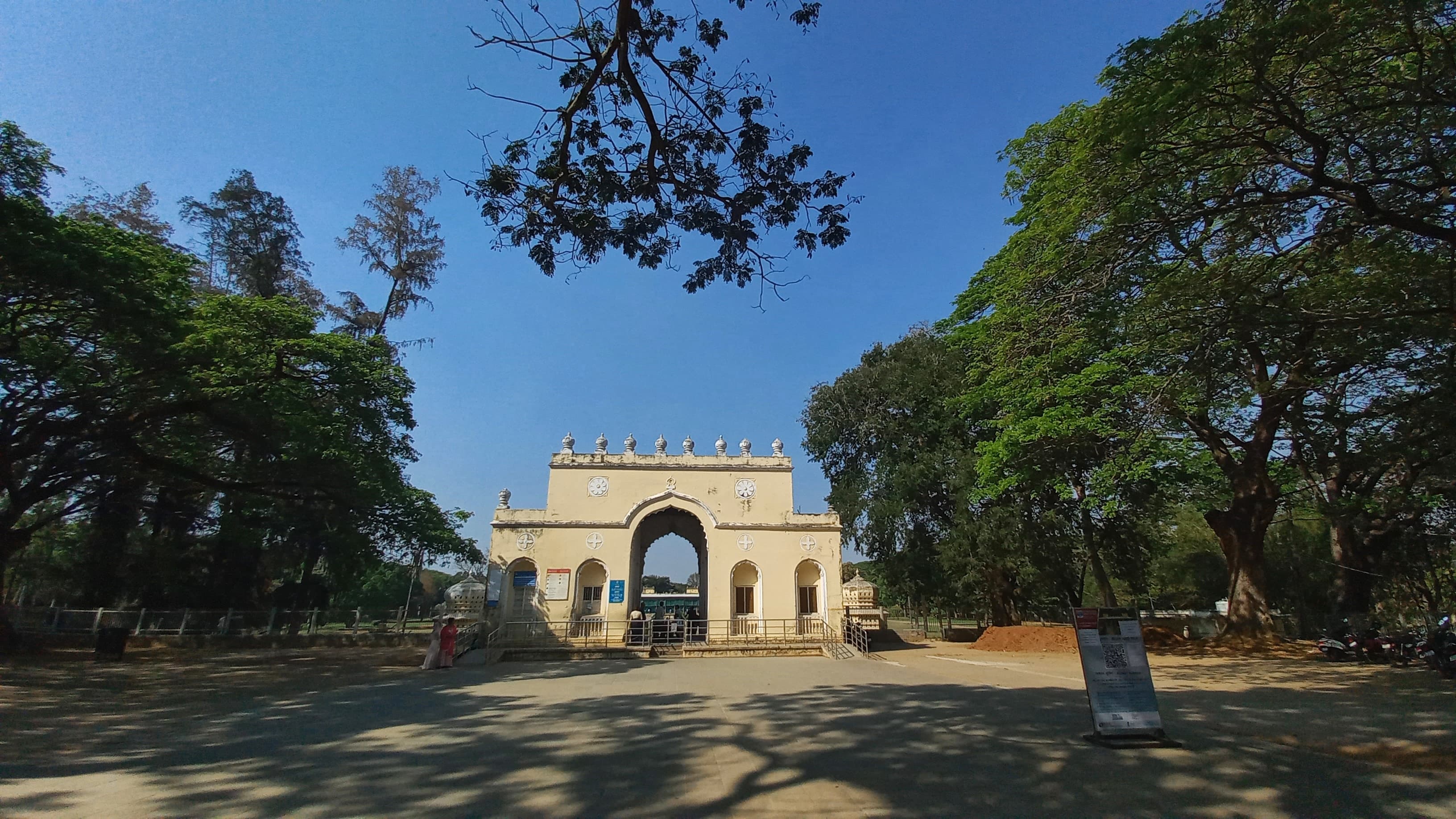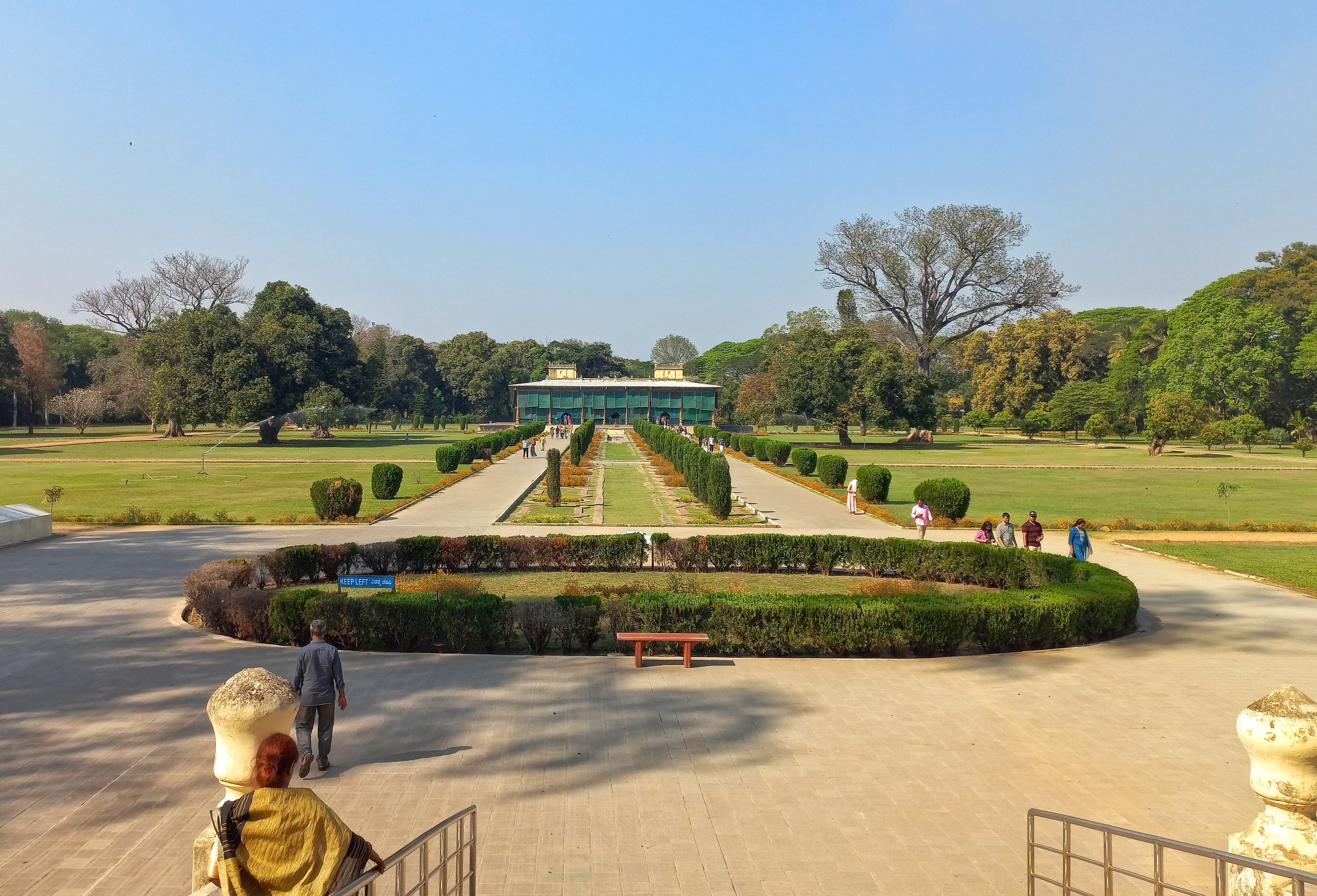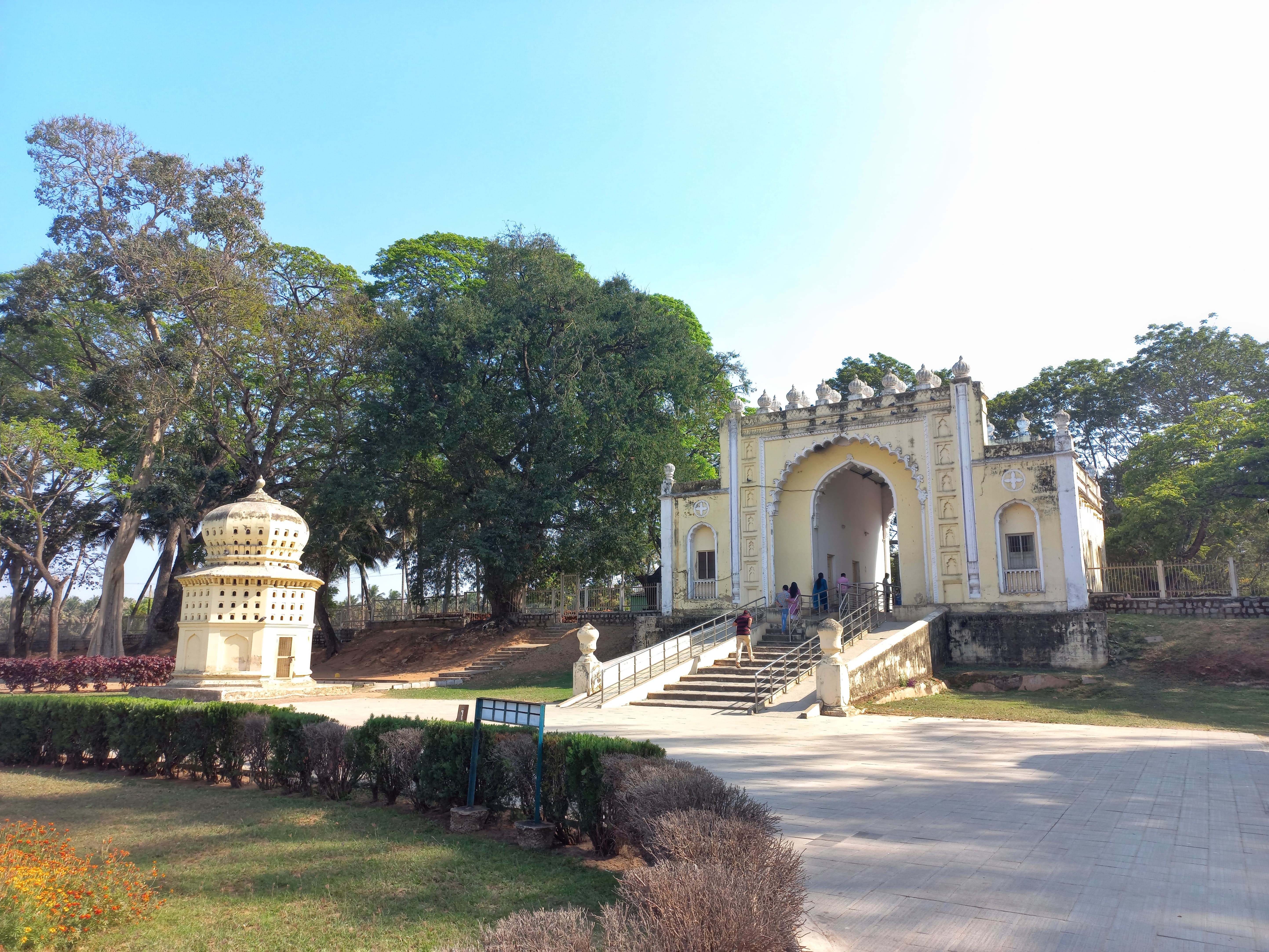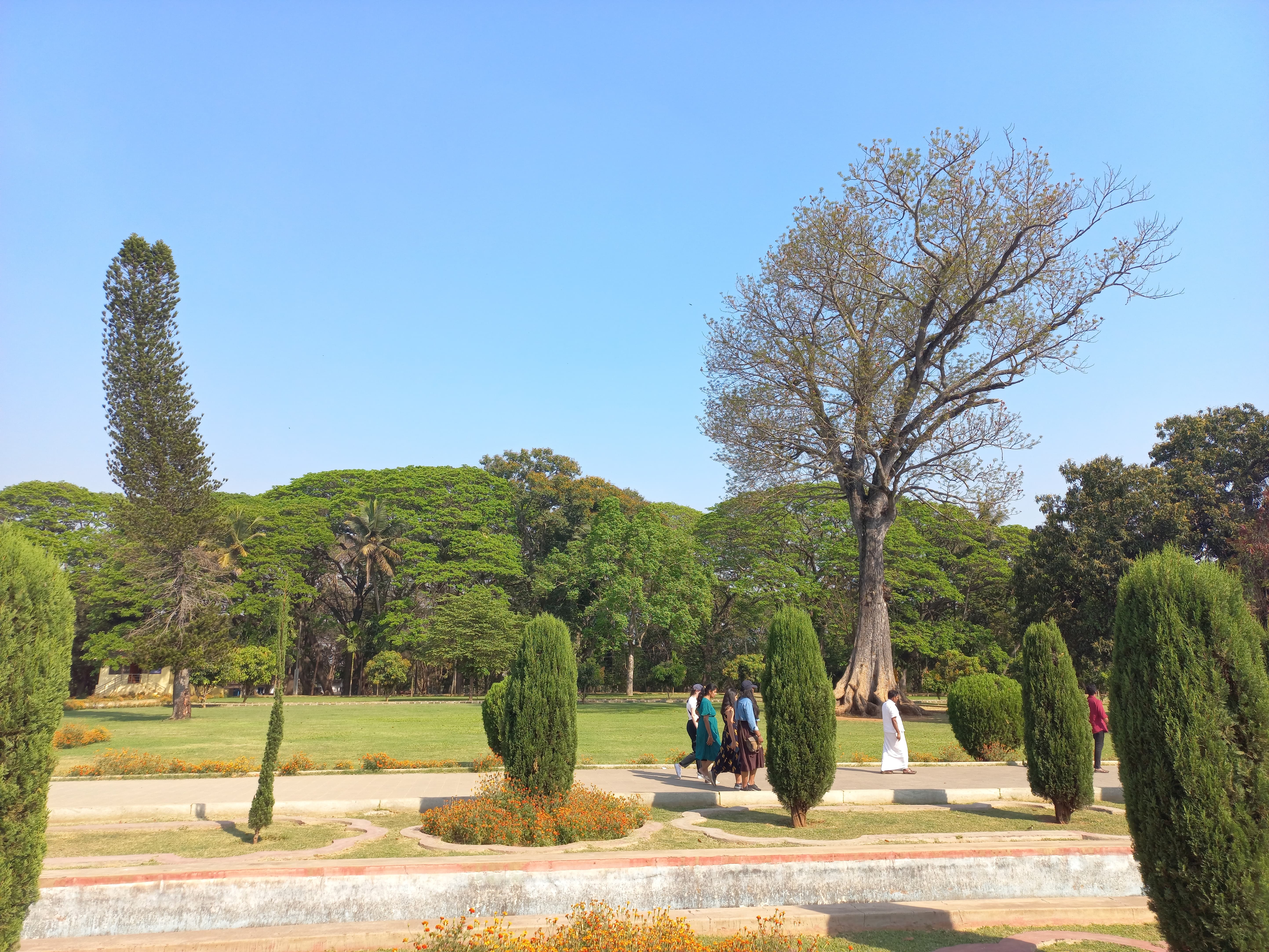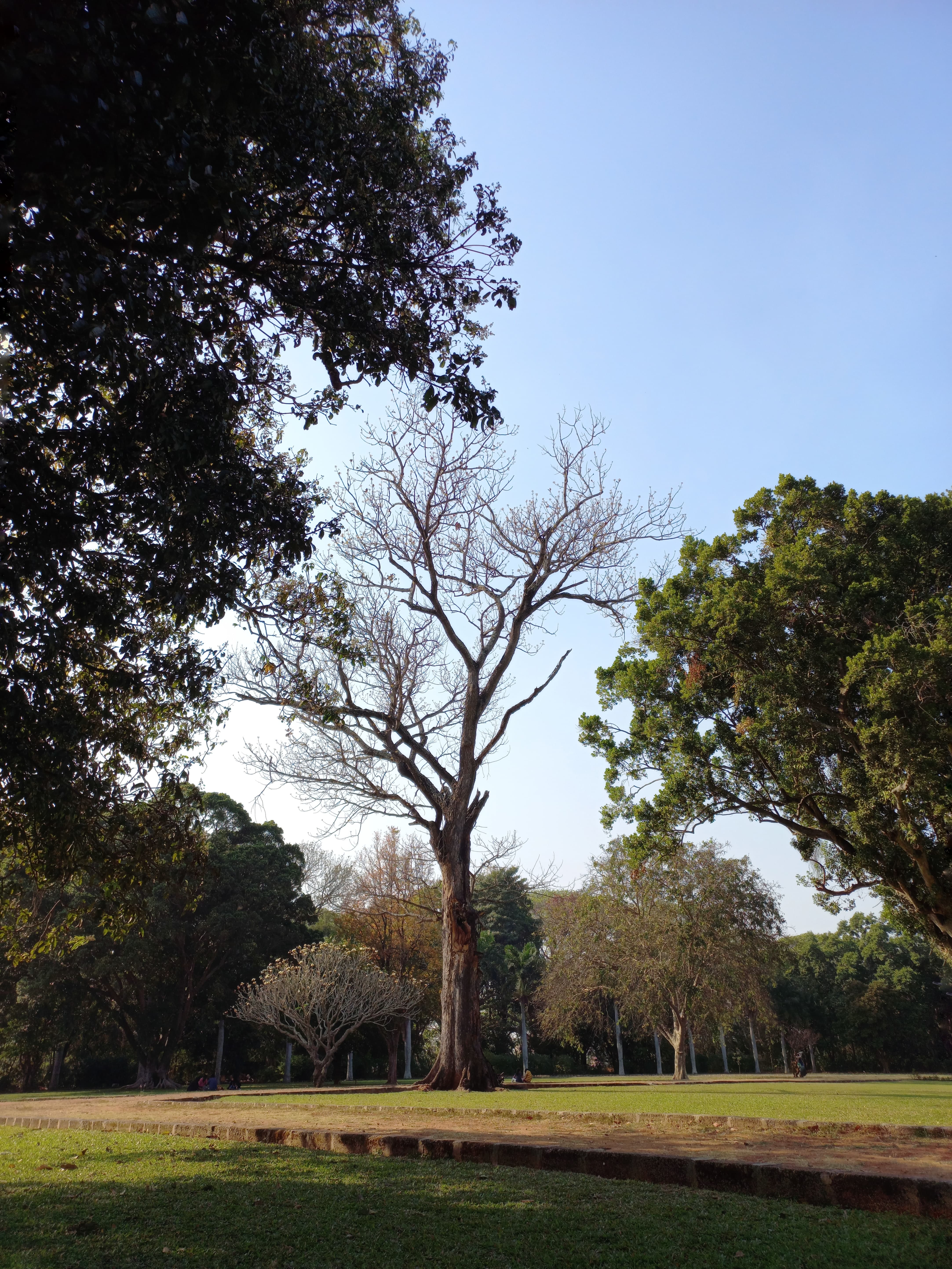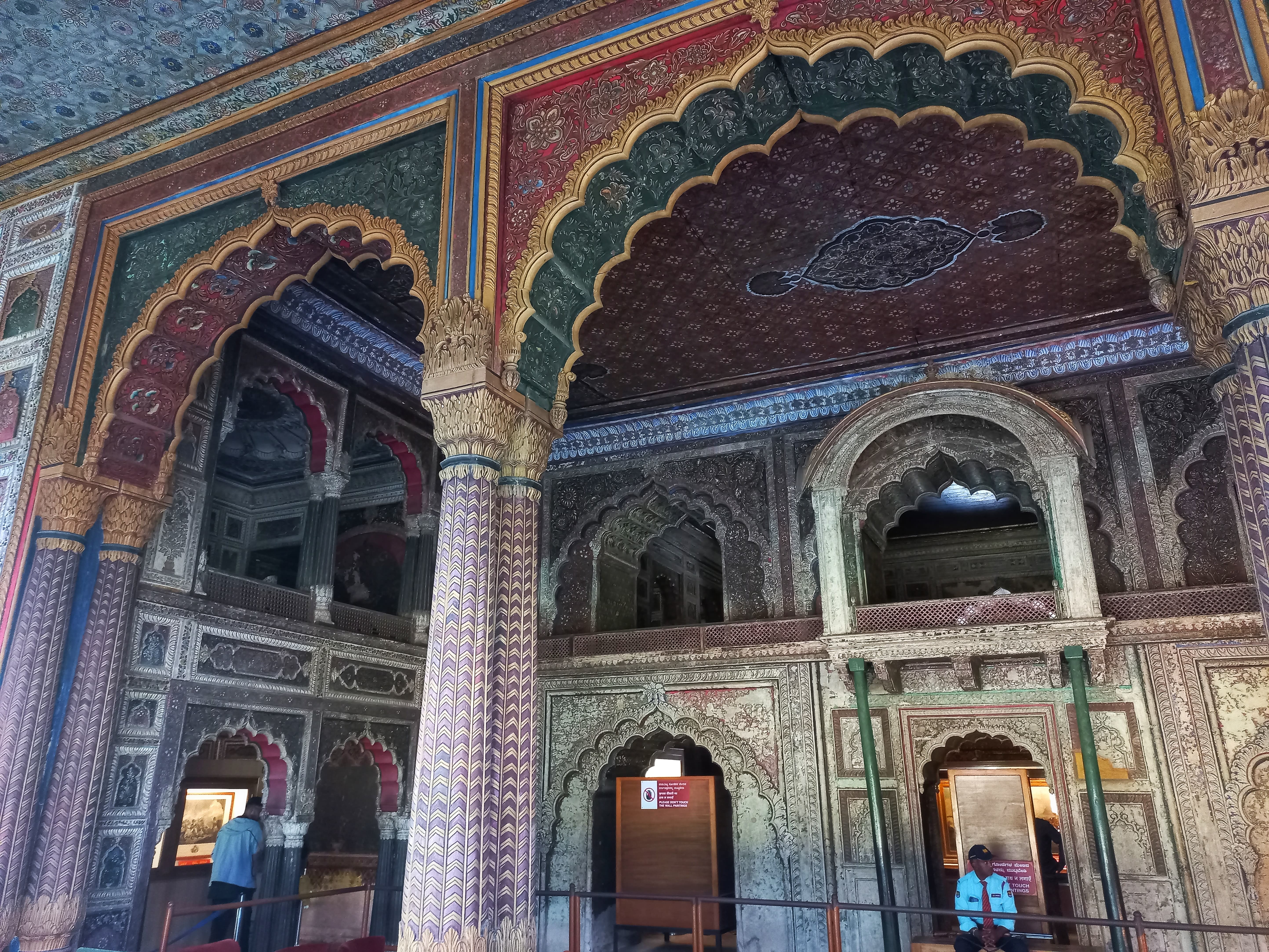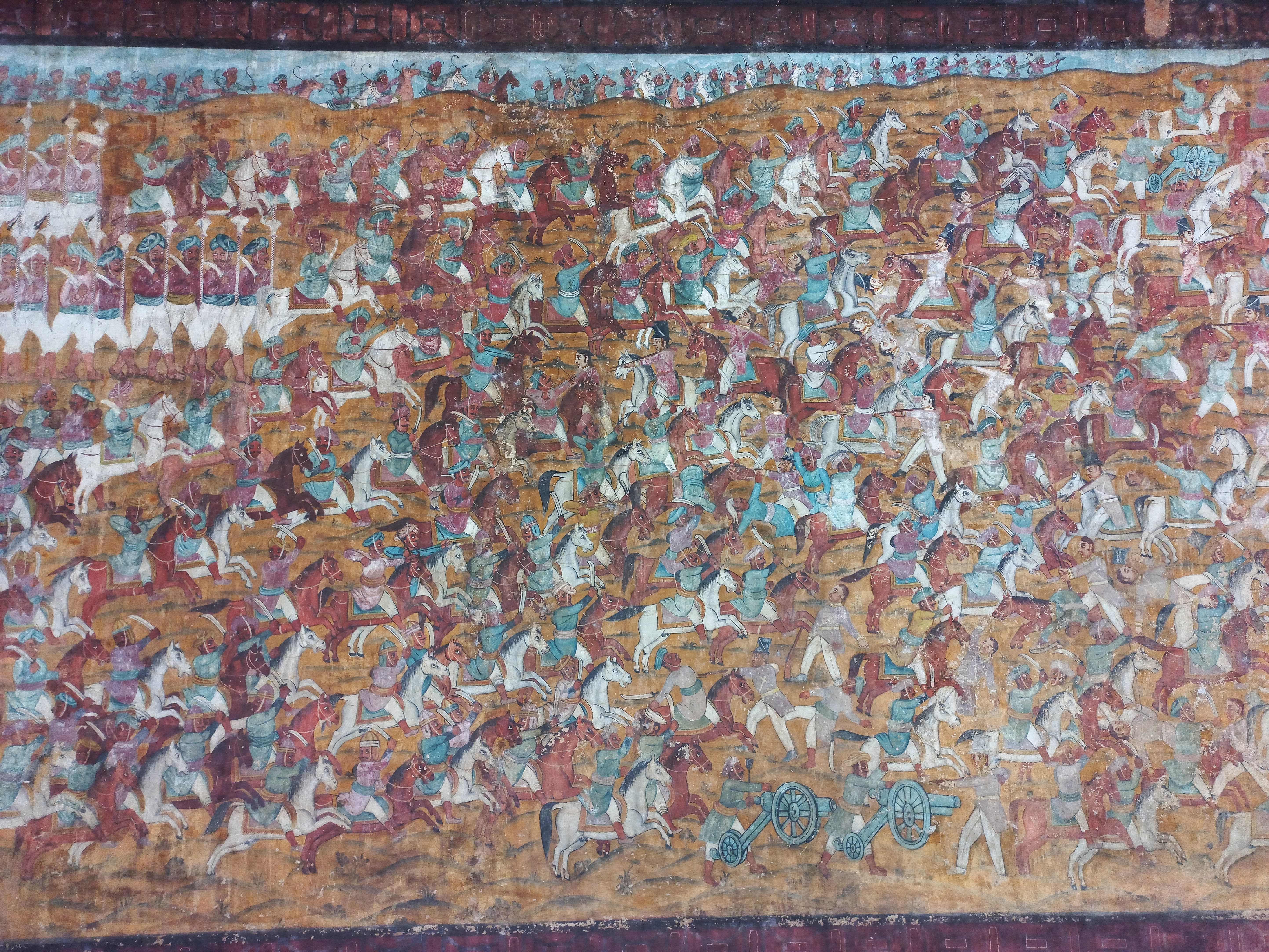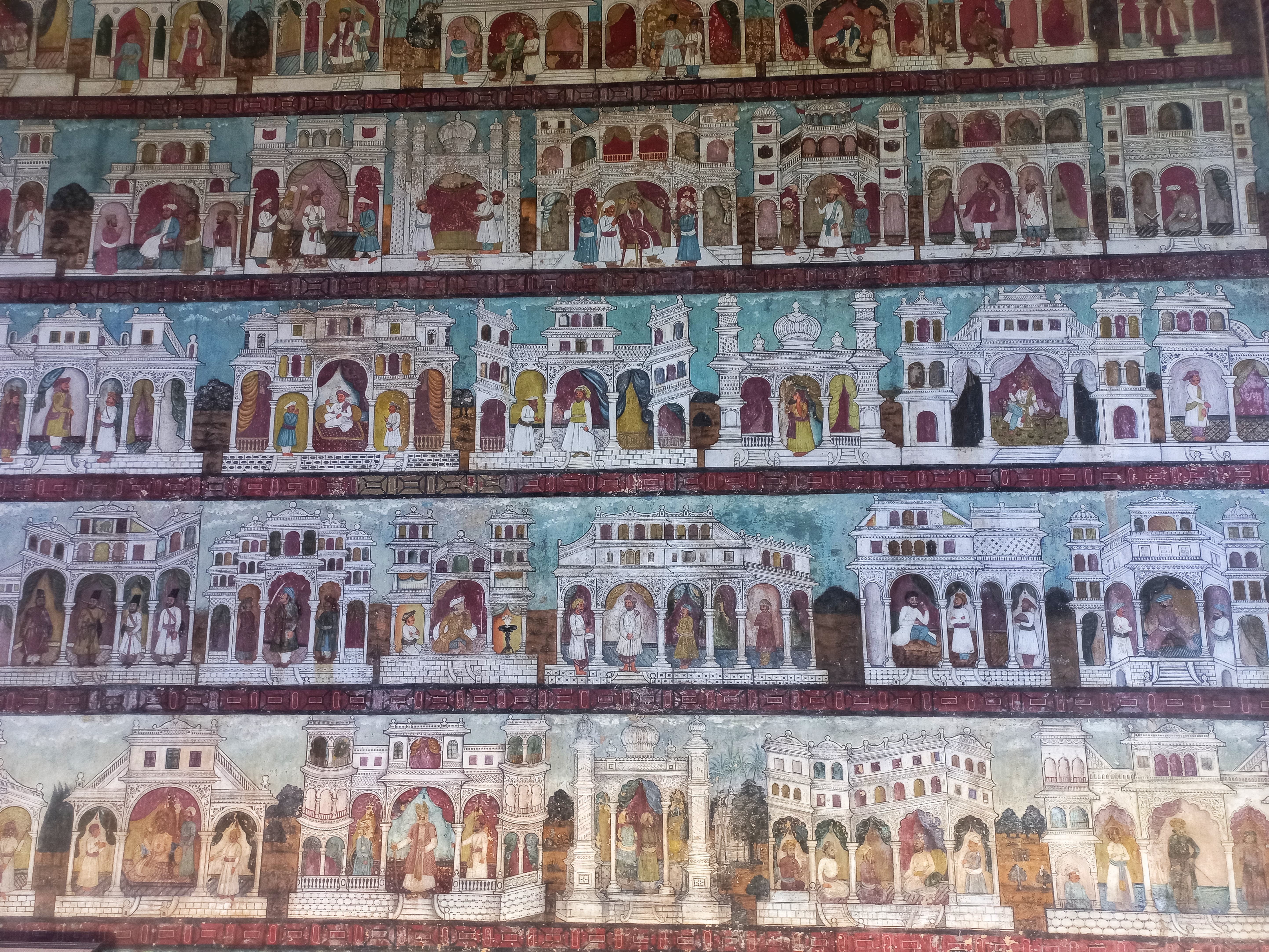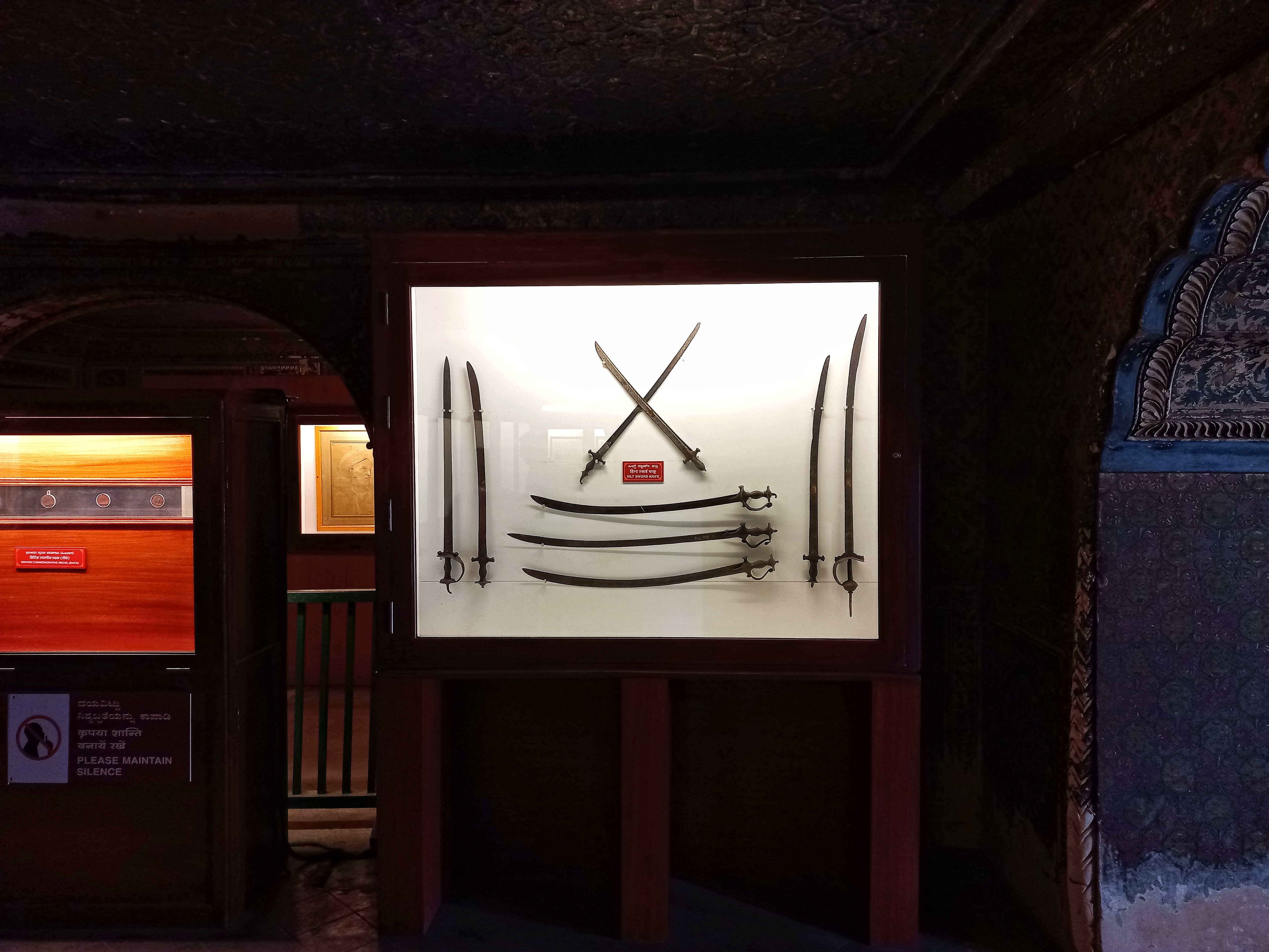 In the evening, we made our way to the Brindavan Gardens, but were disappointed to find out that the park's main attraction - the musical fountain - was undergoing maintenance. The garden is located beside the KRS (Krishna Raja Sagara) dam.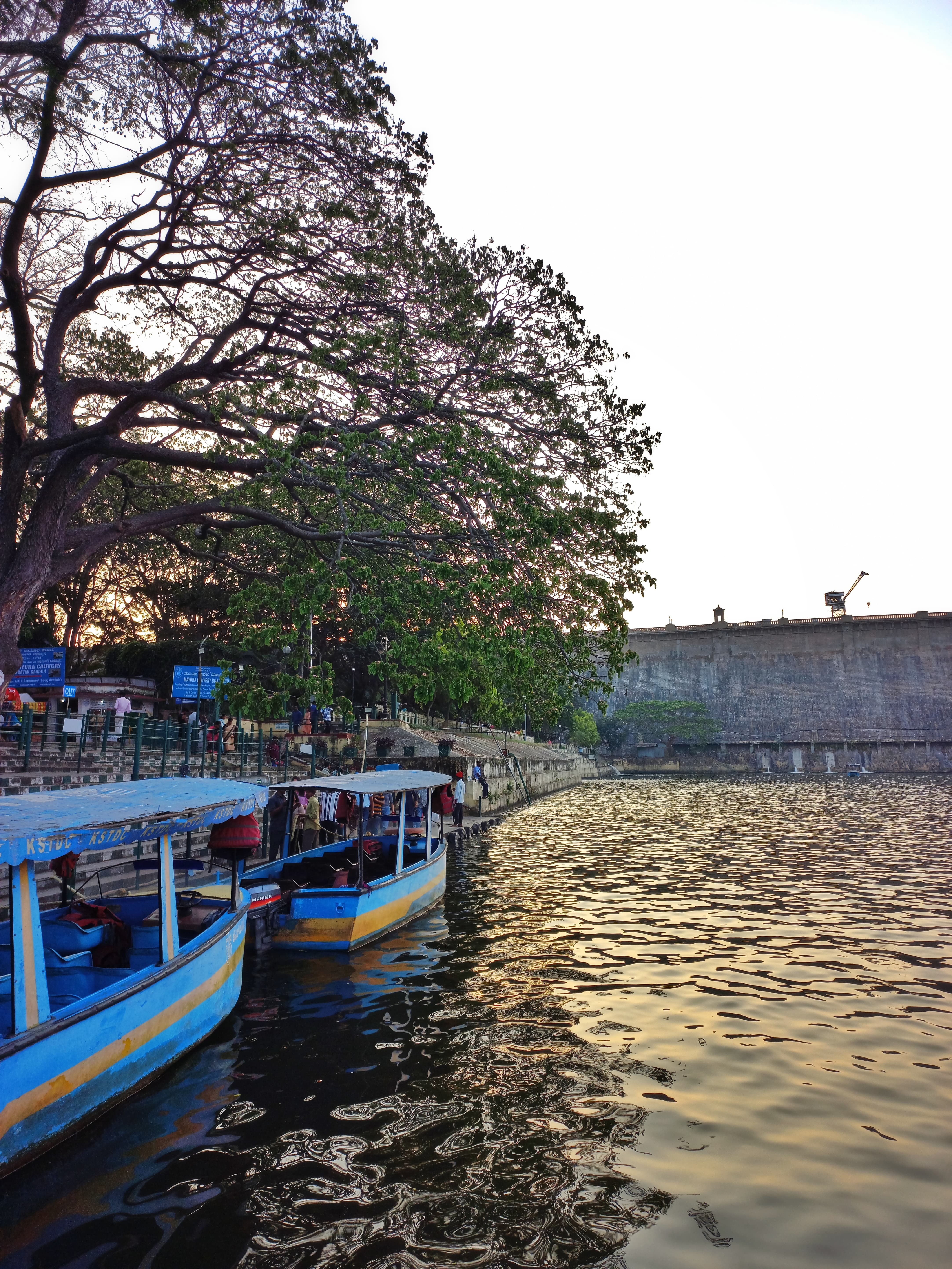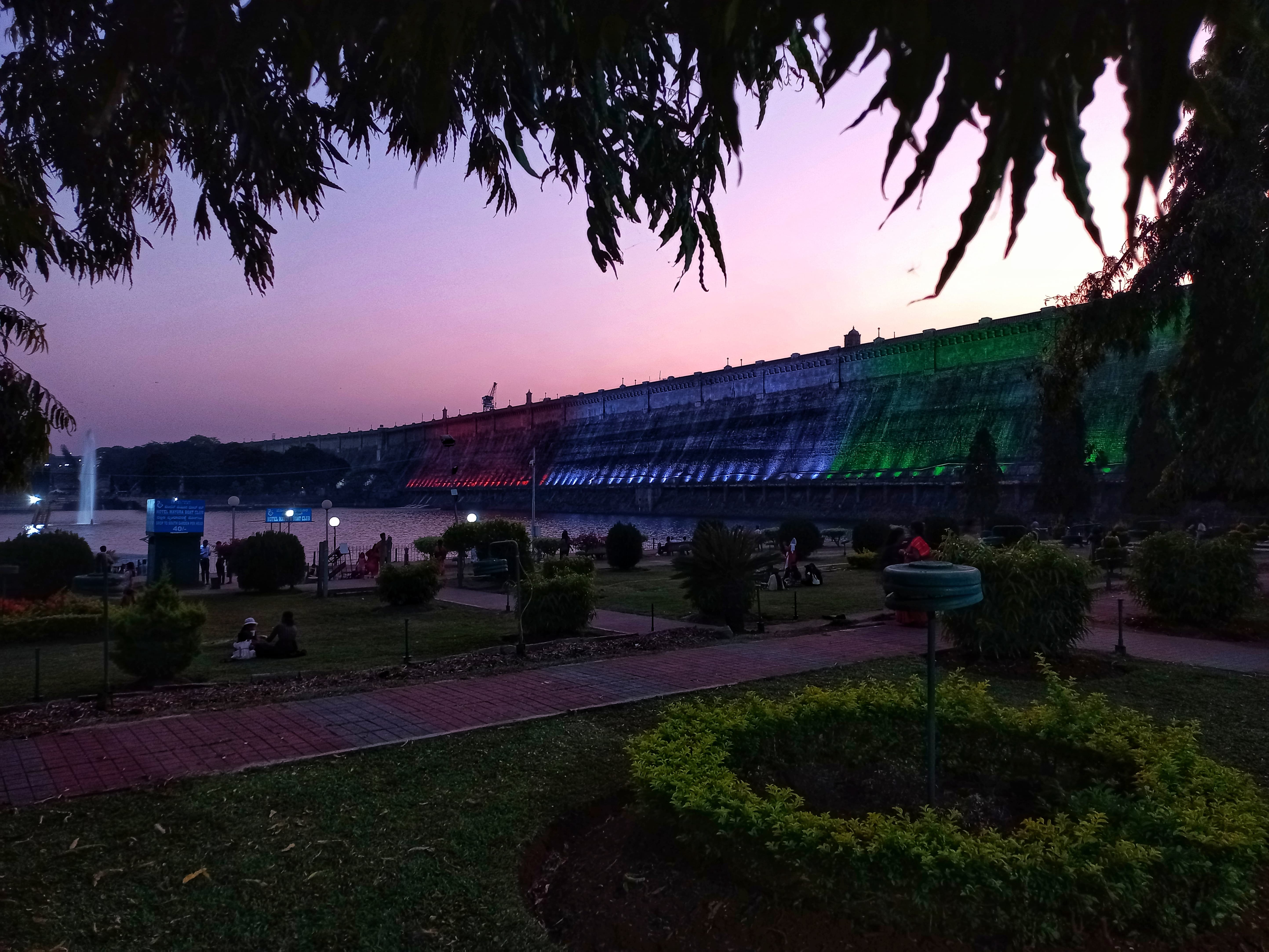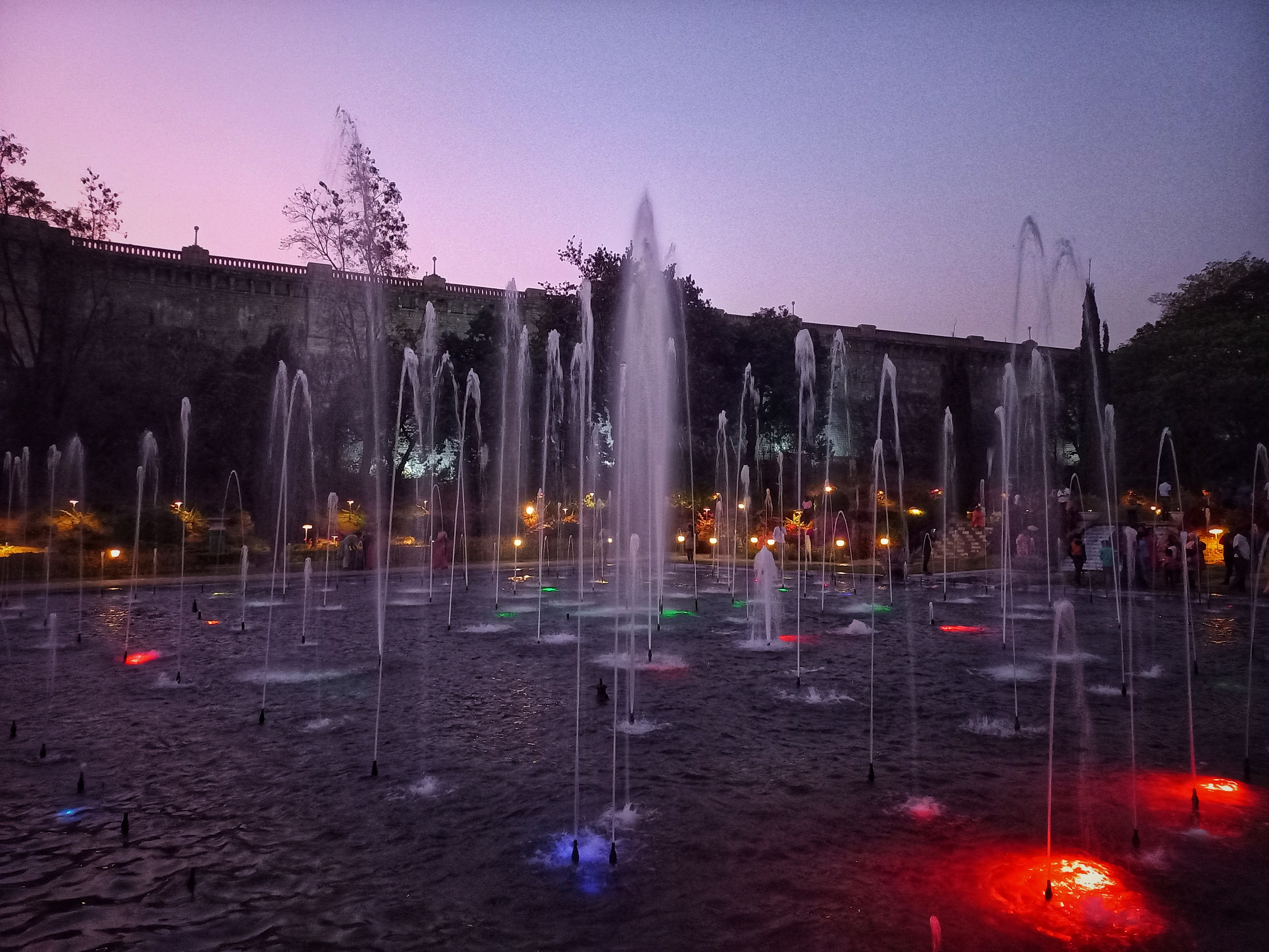 Day 2 #
We approached our Uber driver from the previous day and asked if he could take us to the sites we wanted to explore in and around Mysore. Luckily, he agreed to an offline ride (goodbye Uber :p).
Our first stop was the Mysore Palace, which had once served as the official residence of the Wadiyar dynasty. The original palace, made entirely of wood, was destroyed in a fire during the wedding of Chamaraja Wodeyar's eldest daughter, Jayalakshammani, in 1896. The Wadiyar royals then hired British architect Henry Irwin to design a new palace, which began construction in 1897 and stands today. A quick glance through photos of the palace reveals its unmistakable Indo-Saracenic architectural style.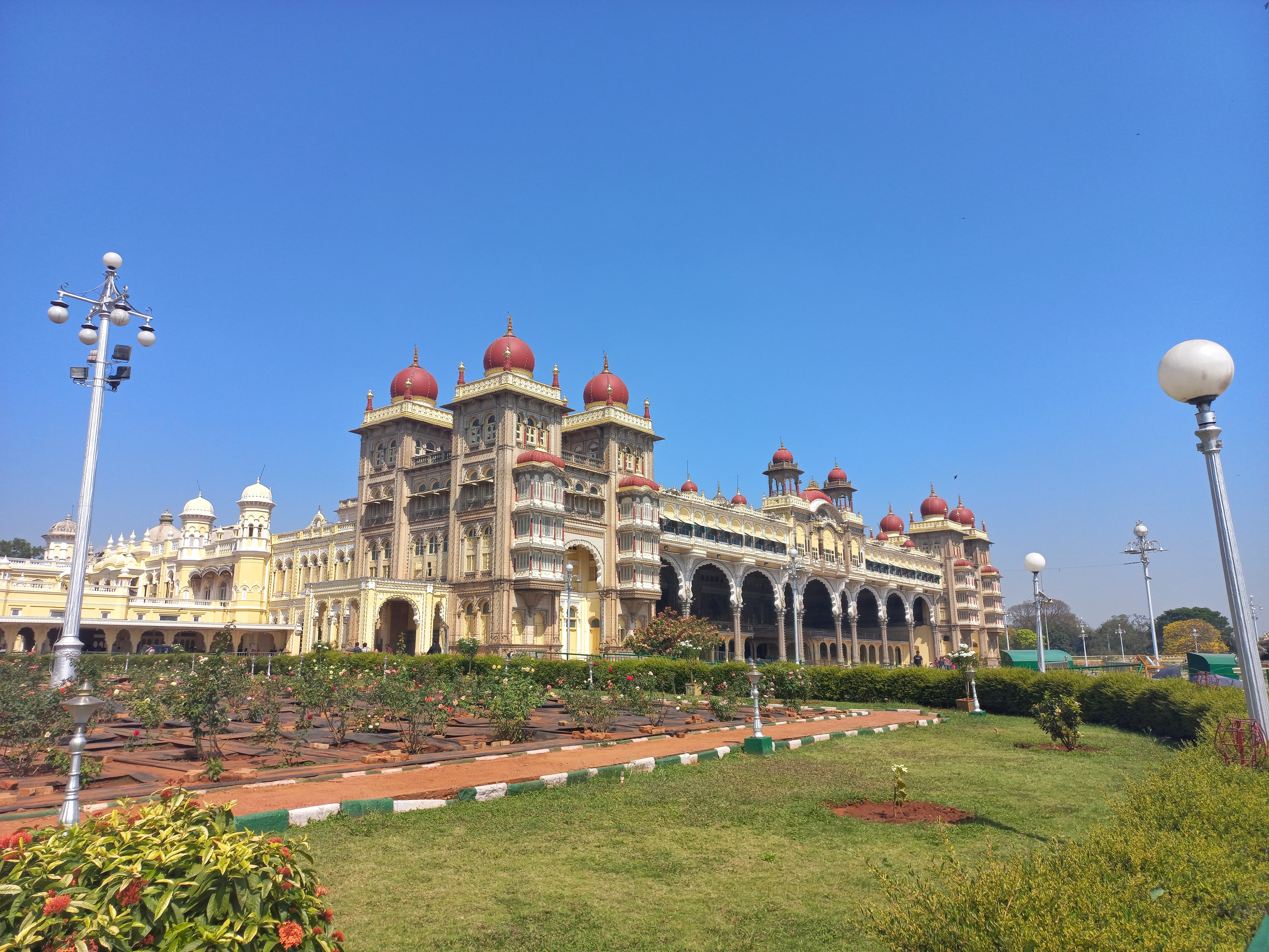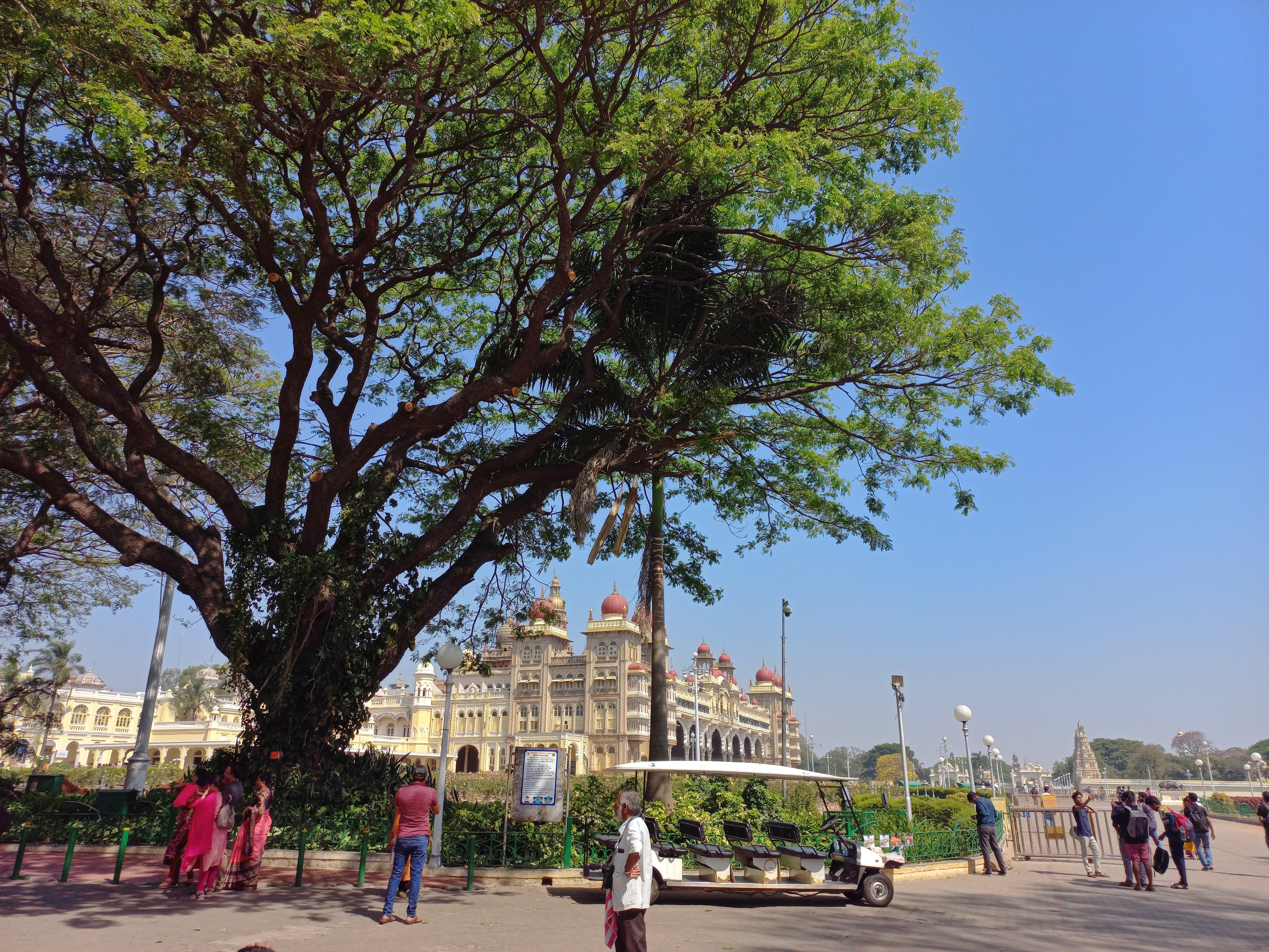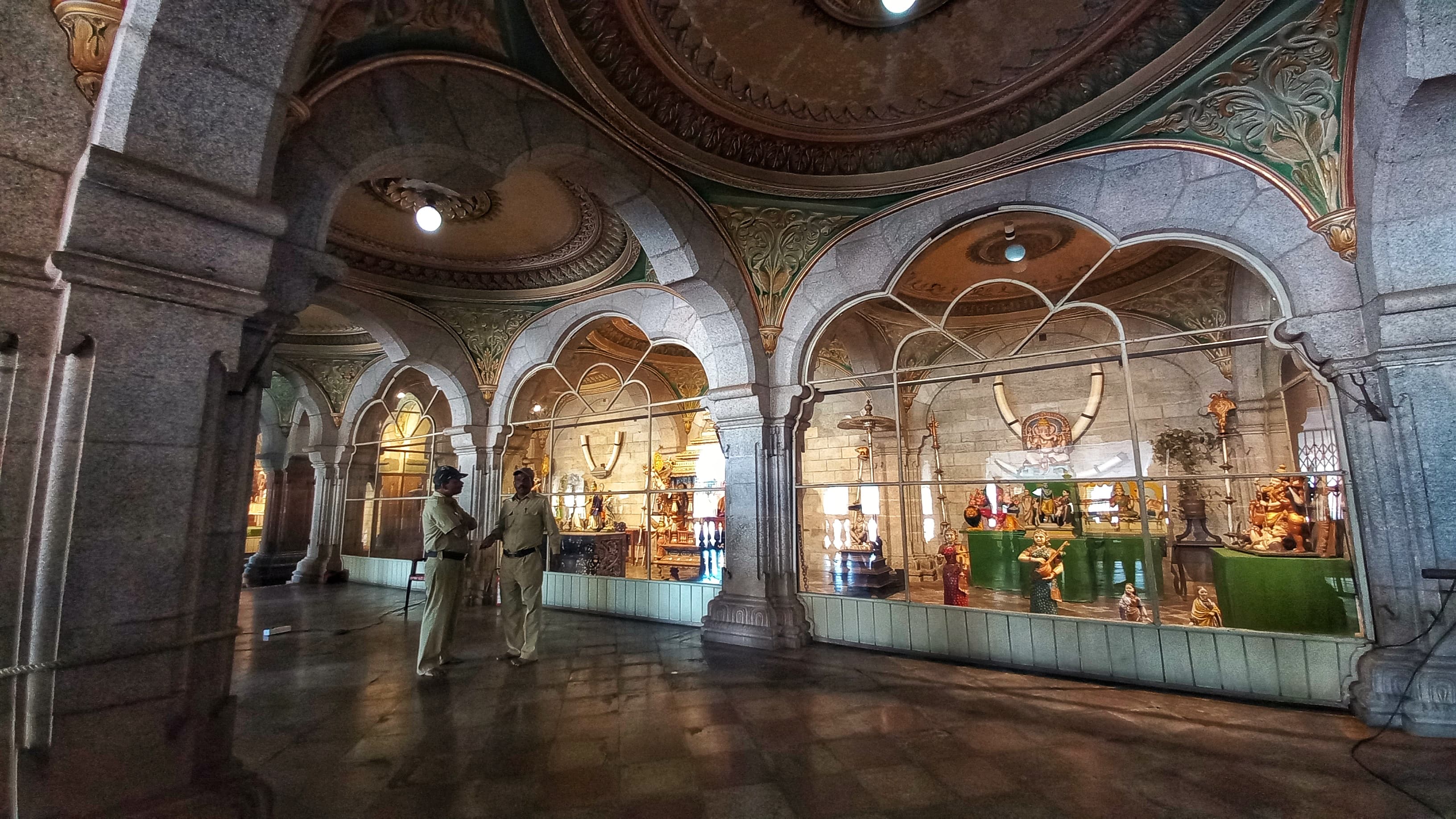 1. A golden palanquin of the Wadiyar royals.
2. All kings of the Wadiyar dynasty were fond of hunting. The 25th king of the Wadiyar dynasty - Jayachamaraja - shot down two elephants in 1955 in the jungles of Kodagu (also known as Coorg), and their heads were mummified, and after treating them with chemicals they were mounted here for display.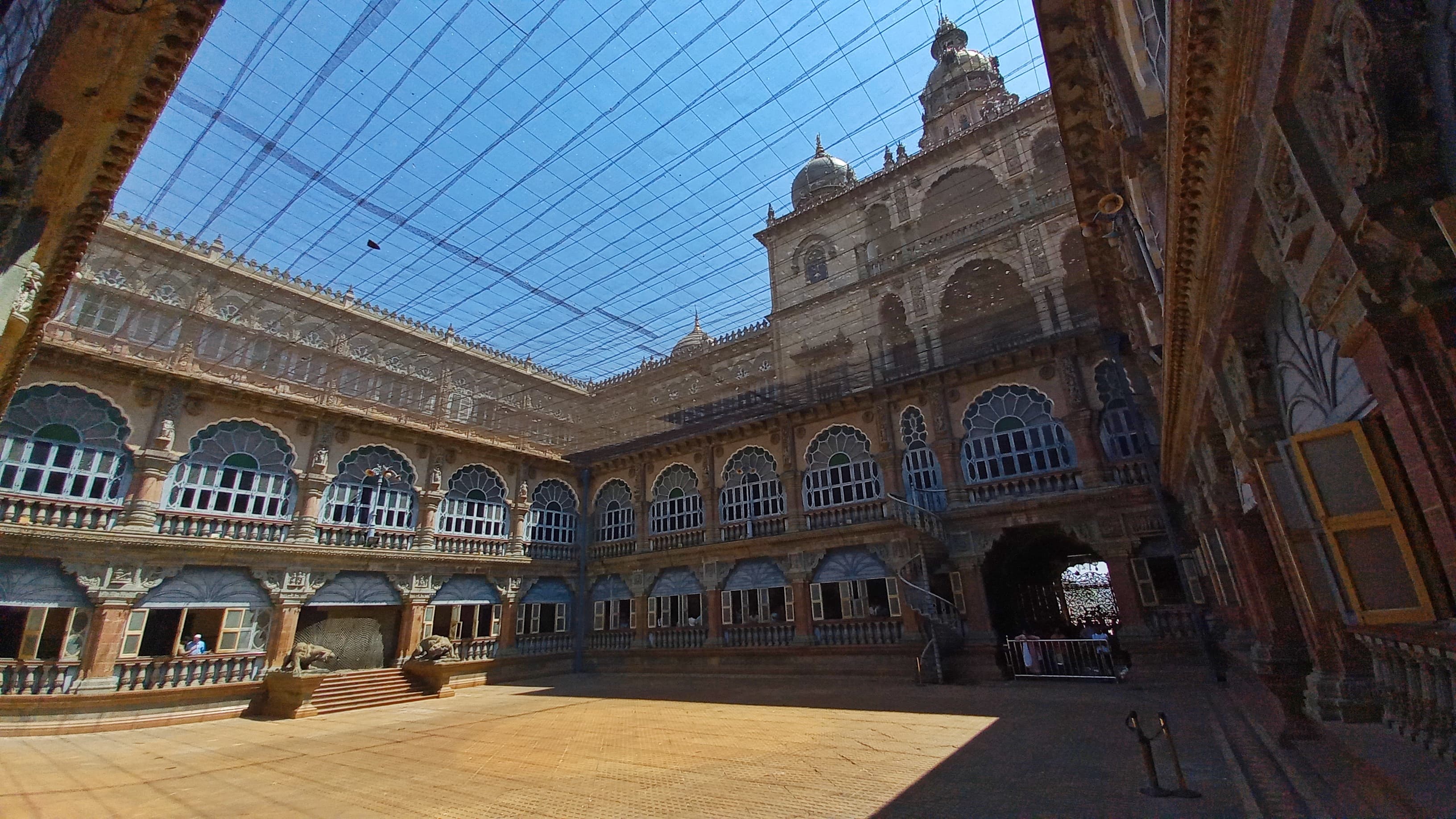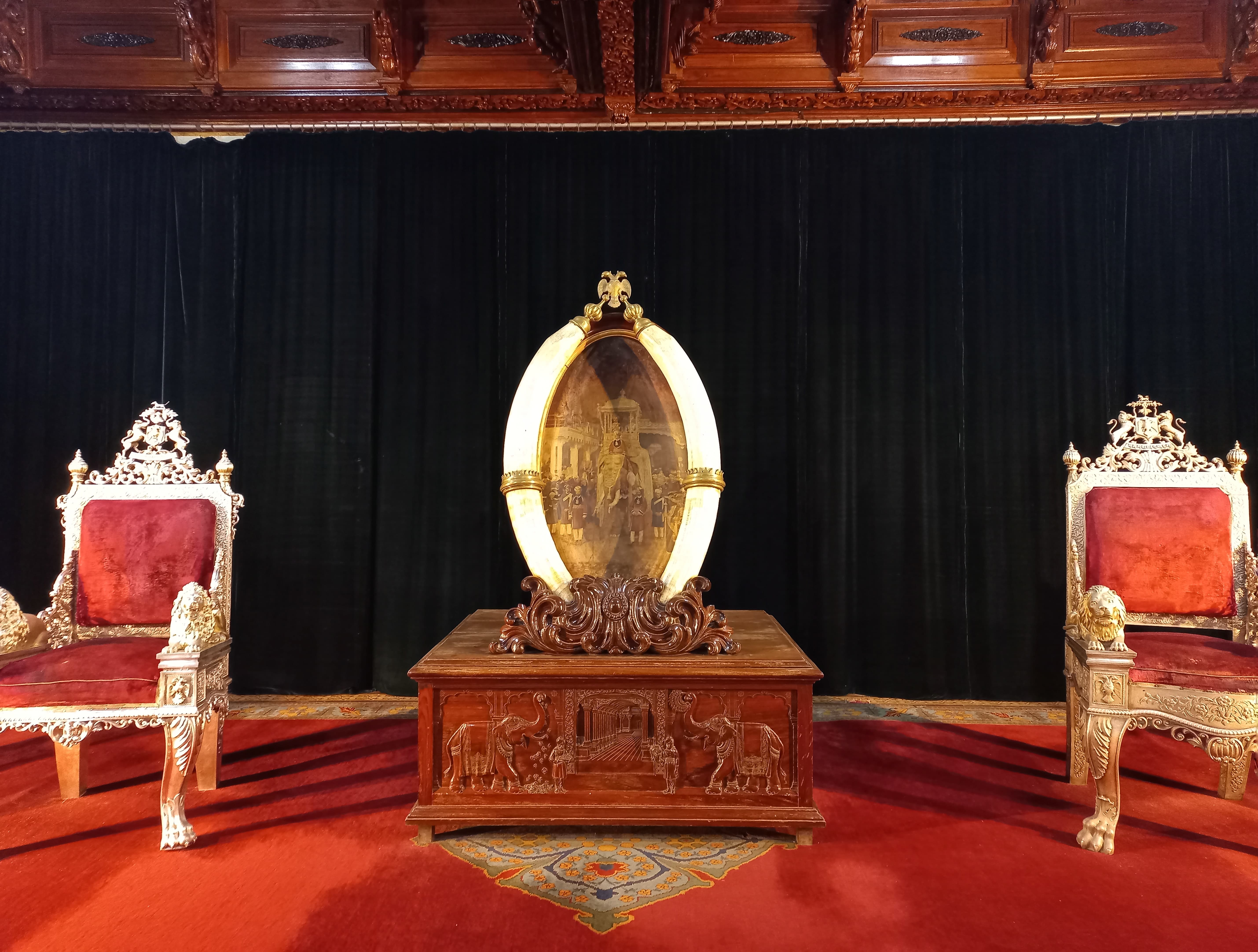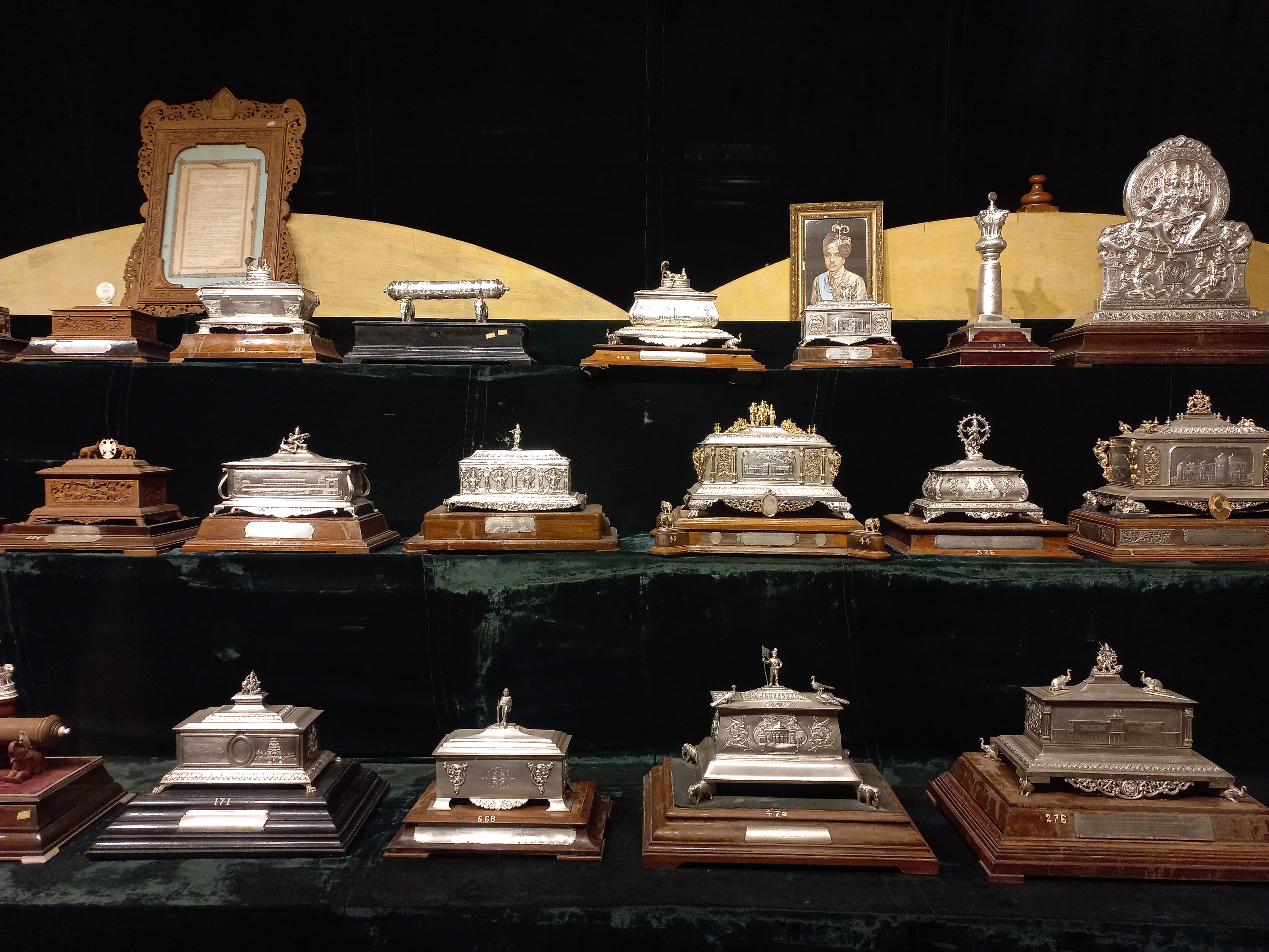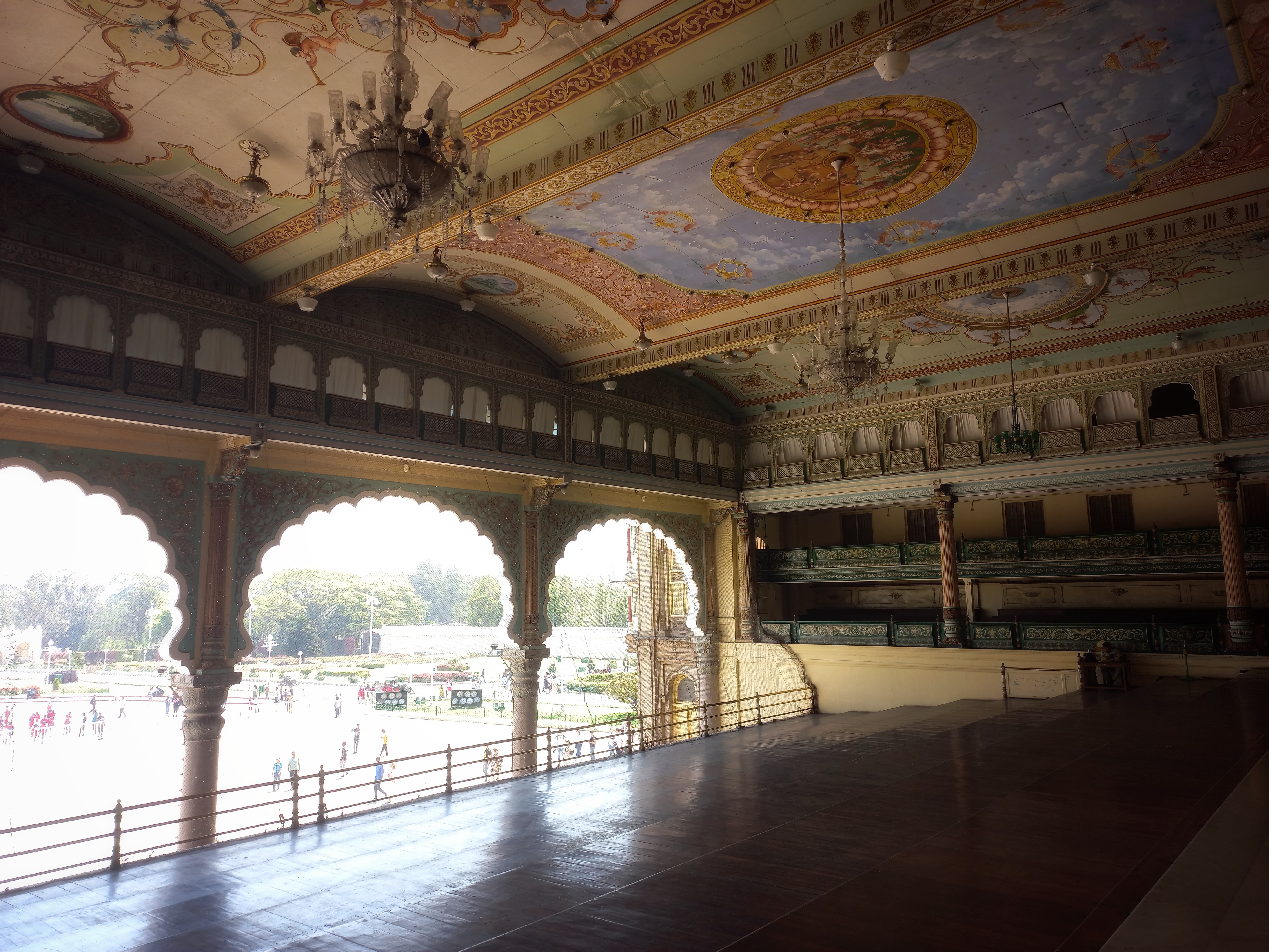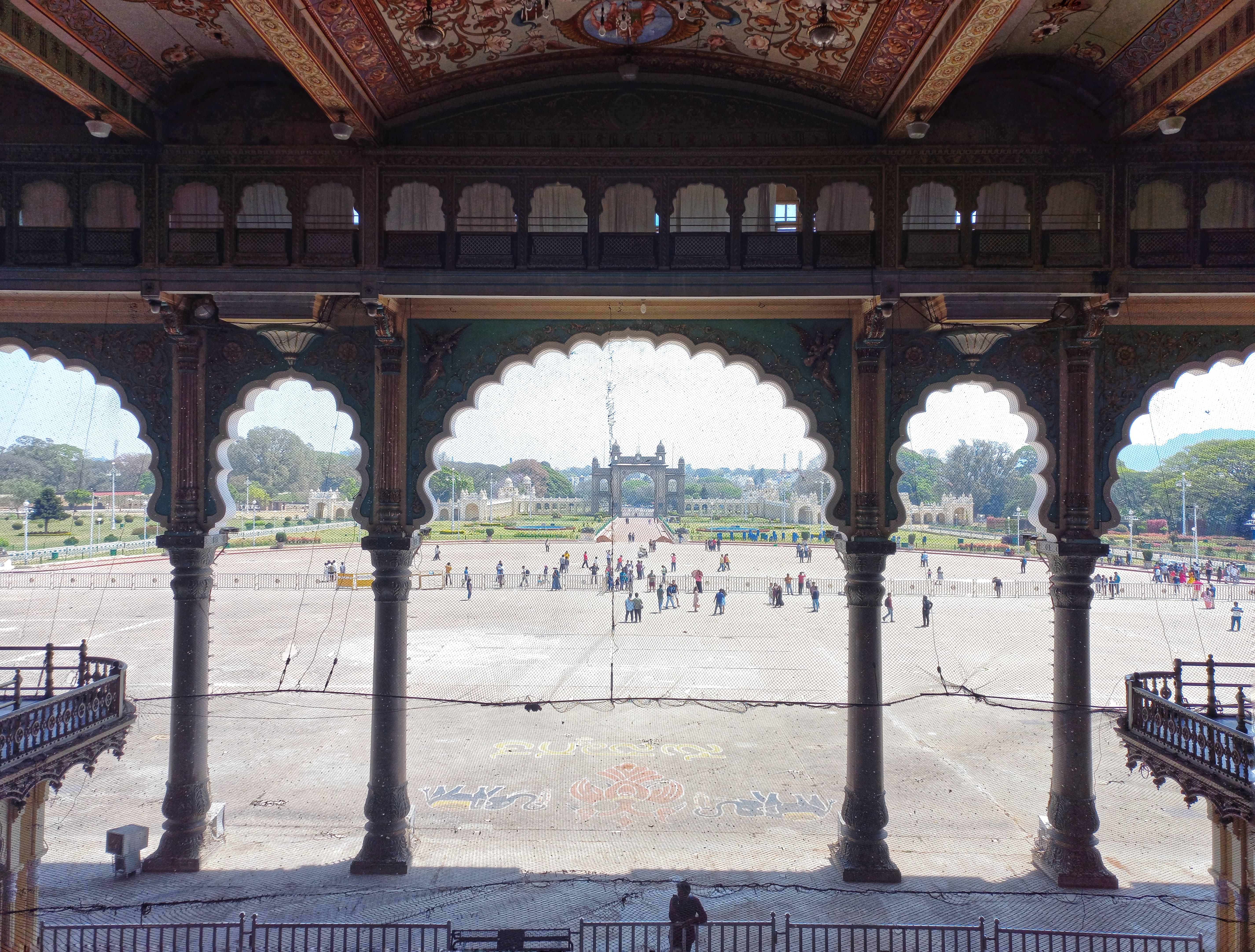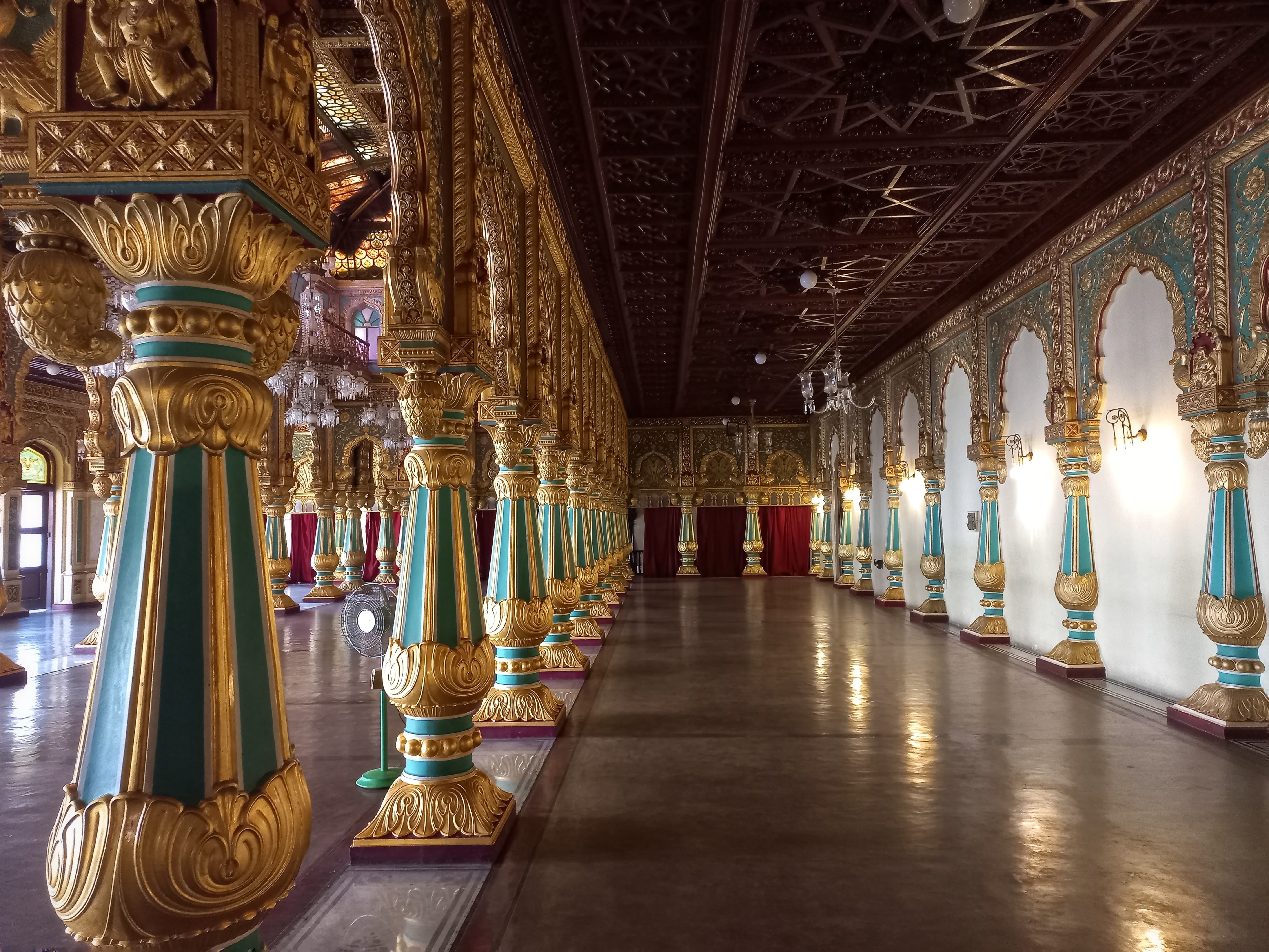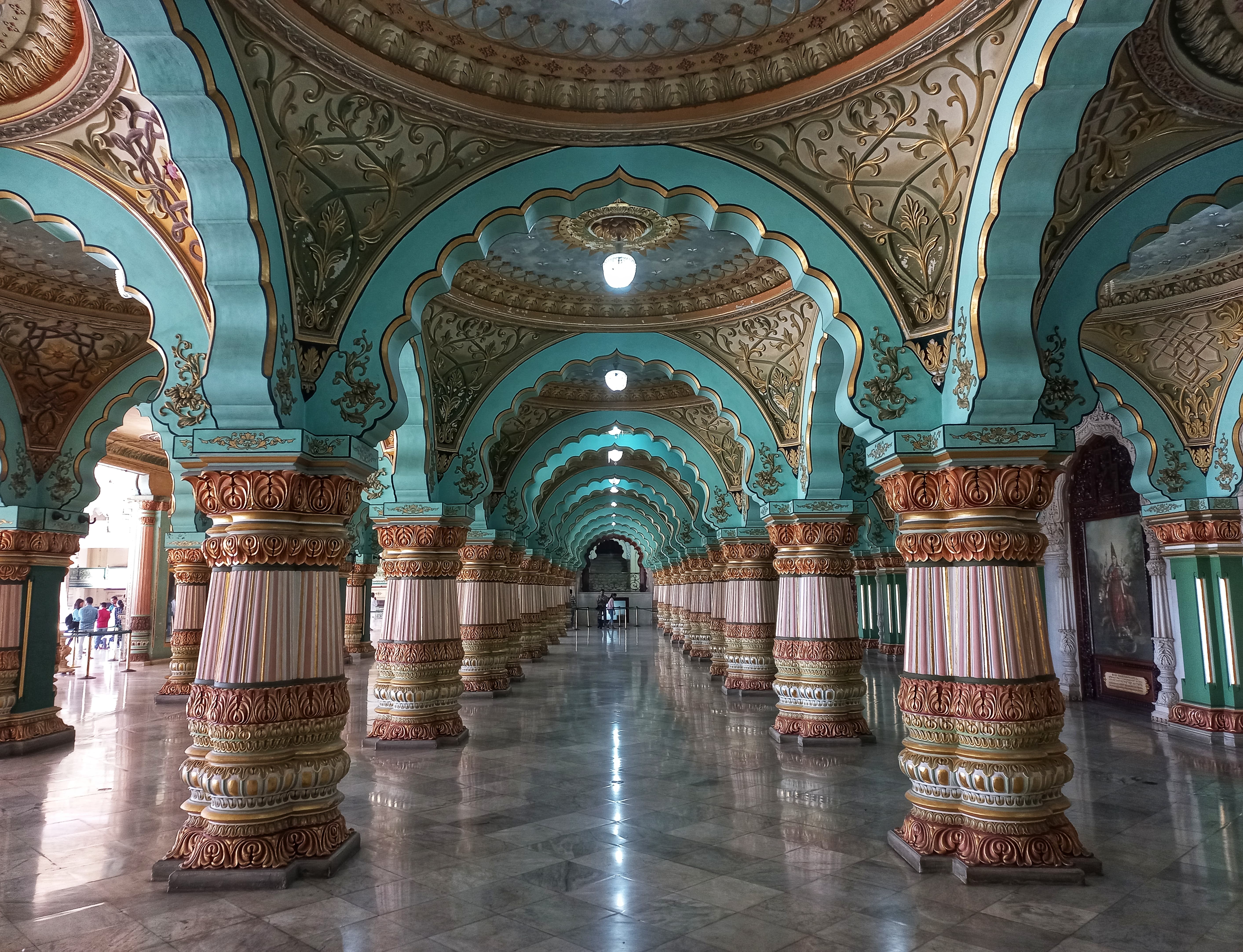 1. There are many doors inside the palace and all of them have such wooden carvings on them. Each one of them having unique designs. (To appreciate the intricate details, I recommend clicking on the photo and enlarging it.)
4. A wooden carving on the door frame depicts birds feeding on berry-like fruits.
5. Used elephant ivory dust to draw paintings on the door.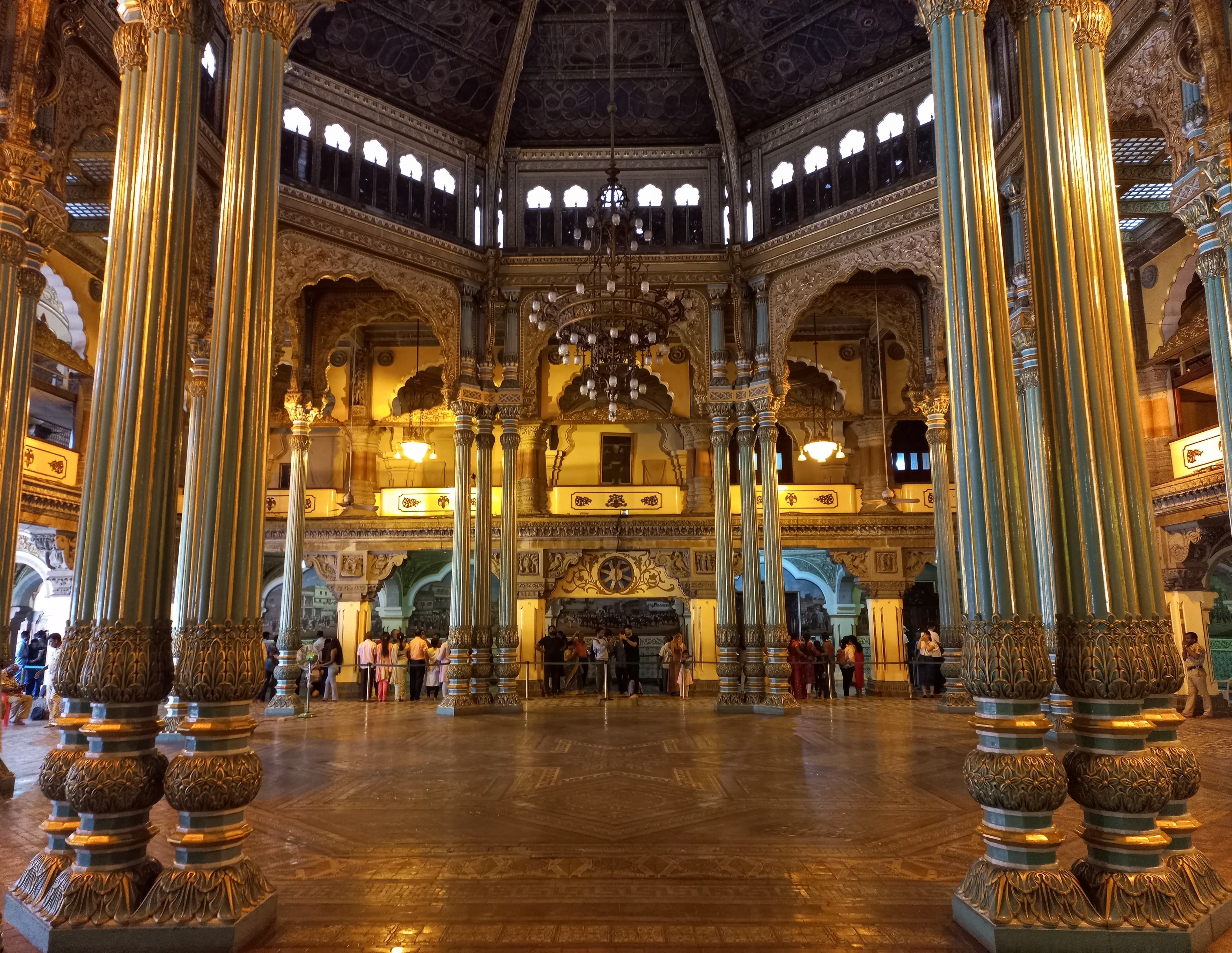 We spent over three hours exploring the Mysore Palace, and it was well worth our time. The intricate design and architecture of the palace are truly impressive. After lunch, we made our way to the Keshava temple in Somanathapura, which is approximately 40 kilometers away from Mysore. This temple is another marvel of engineering and architecture, dating back almost 800 years. Built with soapstone, the temple's separate components are held together by an interlocking mechanism. This temple is a prime example of the Hoysala architecture.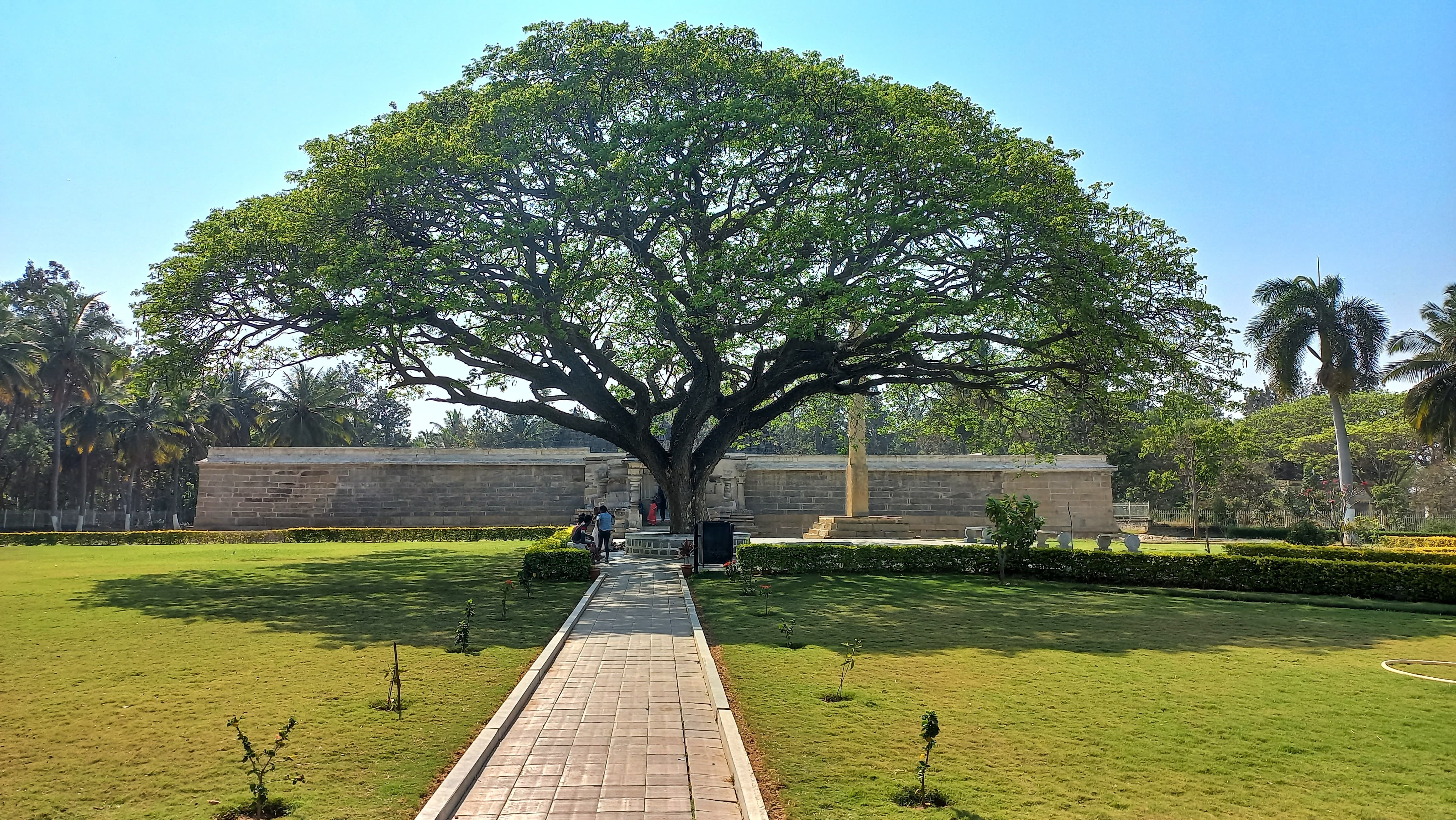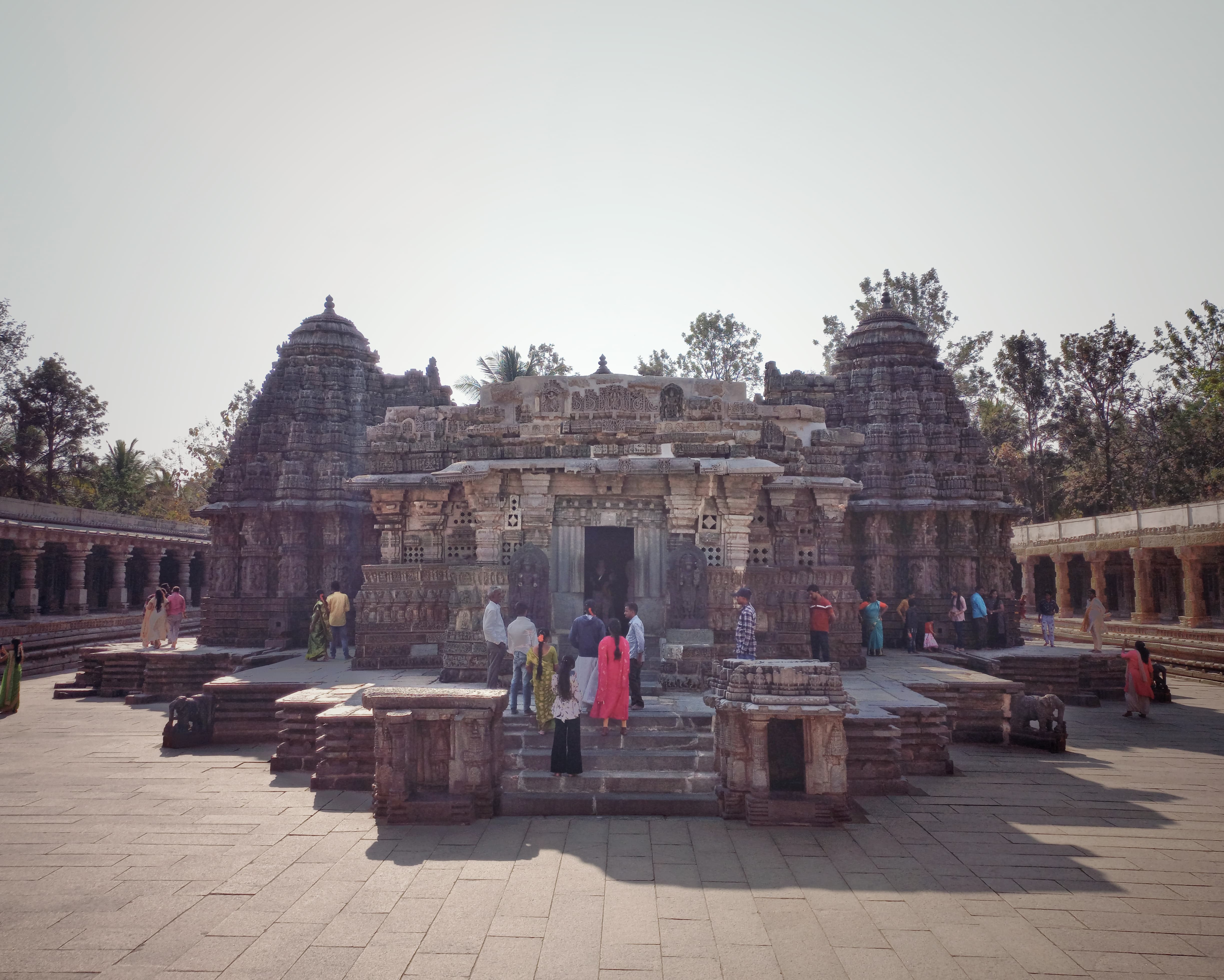 As we were returning to Mysore from Somanathapura, we decided to make a detour to Chamundi Hills. At the summit, we discovered a small town that felt quite crowded and congested.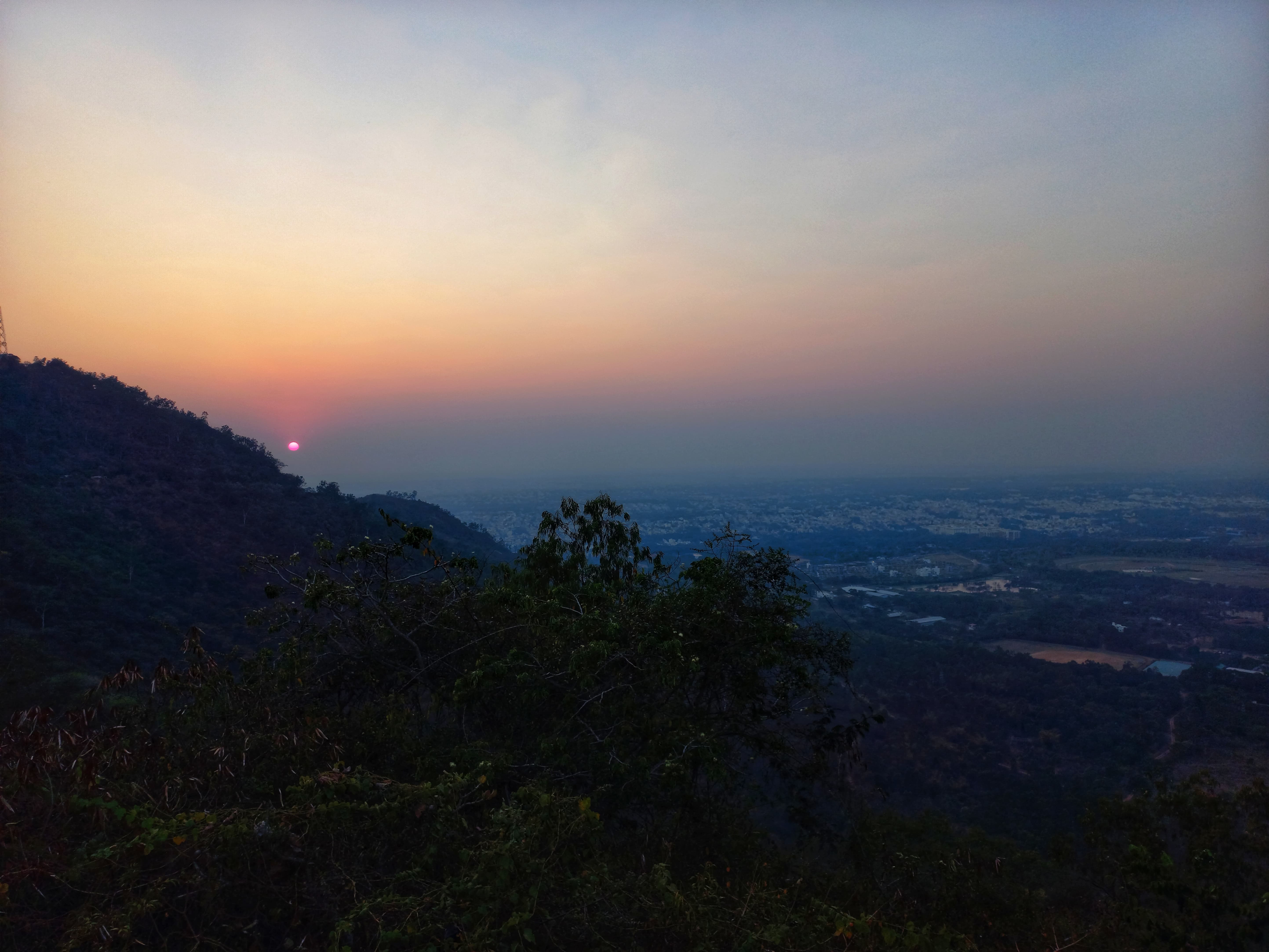 As the sun set on our trip, we departed from Mysore the following day. Exploring the historically significant places in the city was a satisfying and stimulating experience that left a lasting impression on me.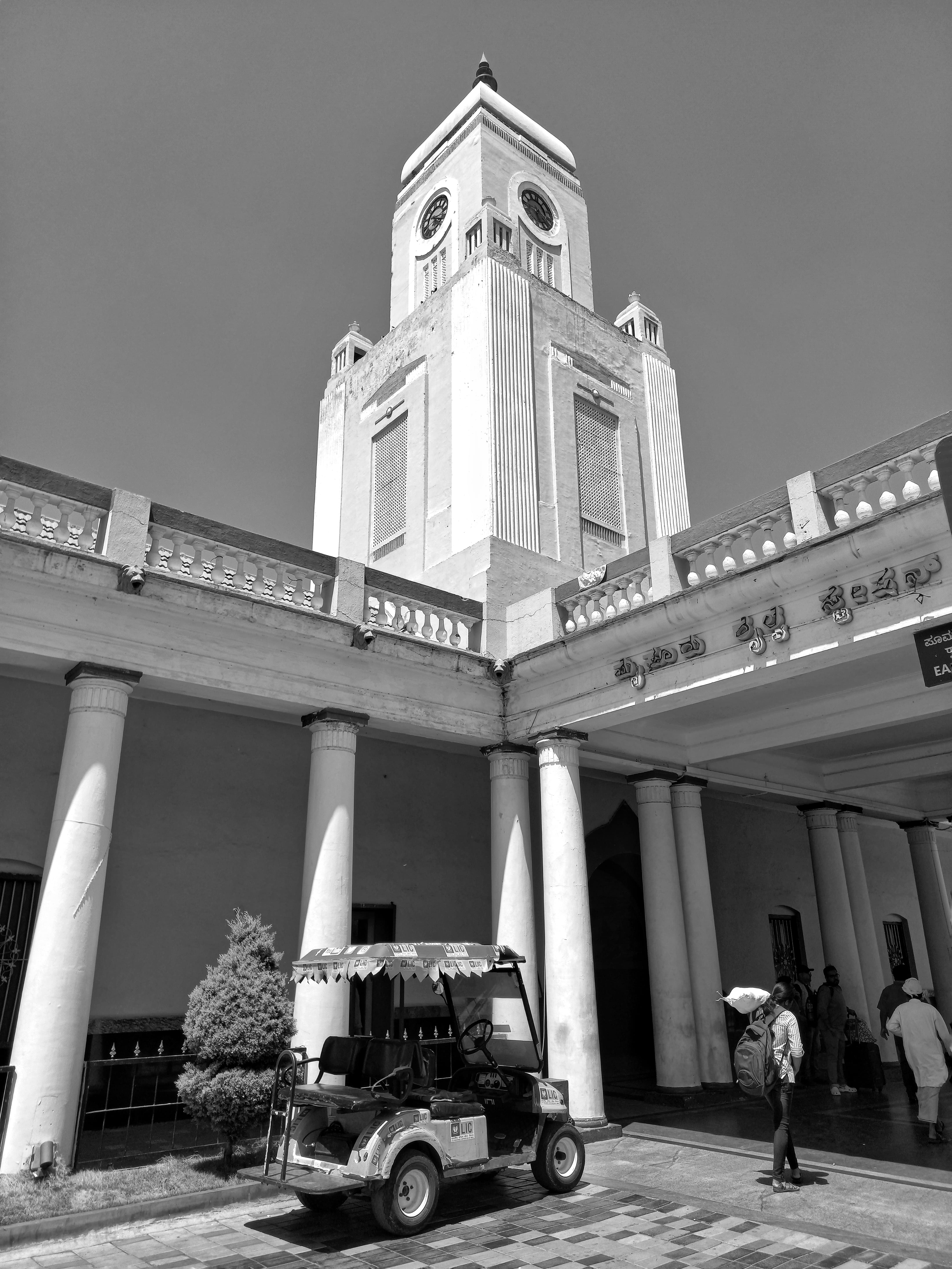 Mysore Railway Station.
---
All the photographs were captured using Samsung Galaxy A32.
Used Snapseed to enhance and post-process them.
---