My take on the new revolutionary National Education Policy and my concerns about it
India's education policy got a long awaited update after three decades. The 2020 National Education Policy, NEP, has some of the much needed changes, which makes it the third major education policy update since independence. I have wanted such reforms in education for a long time and am happy to welcome this new policy.
A policy is a plan for action, and its value lies in whether the plans are actionable, and acted upon.
The revolutionary changes #
NEP marks a departure from archaic practices and pedagogy. The 10+2 old system has been replaced by a new 5+3+3+4 academic structure. It covers the age group of 3-6 and it promises to bring 2 crores out of school children back into the mainstream through an open schooling system. The class 10 and 12 board exams are also to be made easier.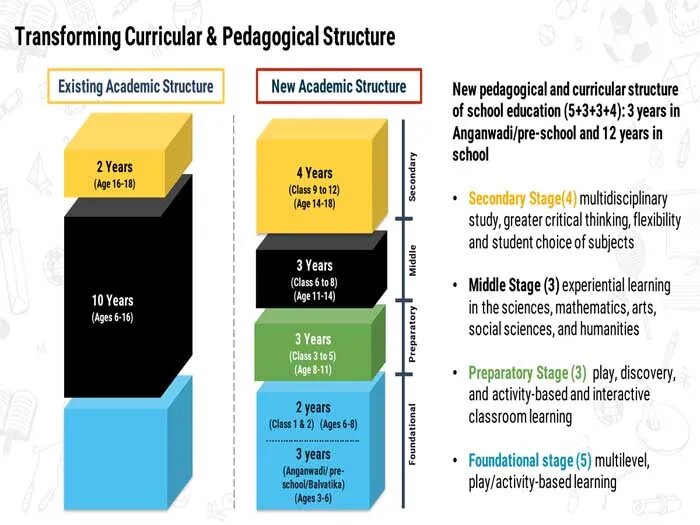 Illustration Credits: drishtiias.com
The policy has made crucial reforms to discourage and curtail rote learning by introducing holistic education. I had a discussion sometime back with one of my college teachers about how teachers and students should take a holistic approach to education. I'm glad that the policy took care of it. Students now will be assessed upon higher-order skills, such as analysis, problem-solving skills, critical thinking, and conceptual clarity. A 360-degree holistic progress card is to be introduced and a new National Assessment Centre, PARAKH (Performance Assessment, Review, and Analysis of Knowledge for Holistic Development), will be set up as a standard-setting body. Quite impressive!
I know a few of my batchmates who lack these real-life skills. They manage to memorize the textbooks and score well enough in the examinations. But they struggle to explain a certain topic on being asked to, and also finds it hard to learn any new concept. This is how the habit of rote learning affects students. But, is it entirely the fault of the students? I don't think so. I've studied in an engineering college affiliated to MAKAUT, a state university in West Bengal. Our university exam papers have almost 70% of repeated questions. They are designed in such a pattern that a student can score good marks by just memorizing answers to the previous year's questions. This habit of rote learning makes a disparity between the marks they score and the amount of knowledge they have.
It offers a lot of flexibility #
I had opted for science in school. I chose it because I was genuinely interested in science, space, and physics, and not because my parents asked me to take science so that I can establish a lucrative career ahead. It was in class 11 that interest to study political science built up within me. But since I was not in the arts & humanities stream, I couldn't study any subject that lies beyond the boundary of my chosen stream. This new education policy has smashed such an odd limitation. Now, the students will have the liberty to study subjects belonging to different domains. I wish we had such flexibility during our school times.
Every country and its economy needs skilled industrial workers and specialists like carpenters, electricians, computer technicians and so on. Countries like Germany, United States, China, and many others give their students vocational training right from when they are in school. India isn't good at providing such training. NEP has promised to bring in vocational training from class 6 with internships at local industries and workplaces. I hope this brings more opportunities for the youth to avail immediate jobs and strengthen the unorganized sector.
Higher education to have multiple entry and exit points with appropriate certification. Students can take a break from the undergraduate course and come back again within a specified period without missing the credits earned during the previous session. According to the NEP: "The undergraduate degree will be of either 3 or 4-year duration, with multiple exit options within this period, with appropriate certifications, e.g., a certificate after completing 1 year in a discipline or field including vocational and professional areas, or a diploma after 2 years of study, or a Bachelor's degree after a 3-year programme." An Academic Bank of Credit, or ABC, which could digitally store the academic credits earned from various recognized higher educational institutes so that the credits earned in the previous years can be awarded after entering into the programme again. No more fear of wastage of years. Phew!
Get started with coding from class 6 onwards #
There are students in India who, after completing a bachelor's course in computer science, can't solve a simple coding question or don't have a good grasp over any technology. I speak to many such people, and they tell me that they feel uncomfortable when they face a coding question or look at the lines of code. They don't feel confident enough about writing code.
The new policy has again done something commendable. It has promised to introduce coding from class 6 onwards. This way students can make themselves comfortable around programming from an early age. I don't know how successful this would be because I have concerns about the infrastructure of public schools and the quality of teachers there. Most public schools in India don't have proper basic infrastructures and computer labs. Coding will be a sort of luxury to them.
6% of GDP target is unrealistic and ostentatious #
The government has to put in a lot of money to make this policy work in reality. Otherwise, it's going to be all talk and no play. Let's look at what data has to say about the expenditure on education in India.
A report in Business Standard lays out the spending on education in four years of the Modi government,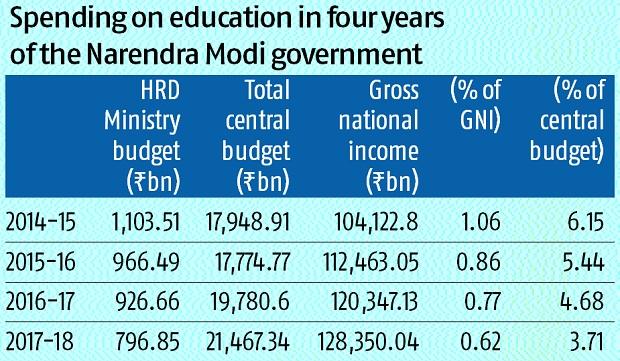 The percentage of gross national income and the central budget is seen to be both decreasing gradually over the years.
According to The Economic Times report, there has also been a decline in the education budget for IITs, IIMs, IISERs, UGC, and AICTE in 2019,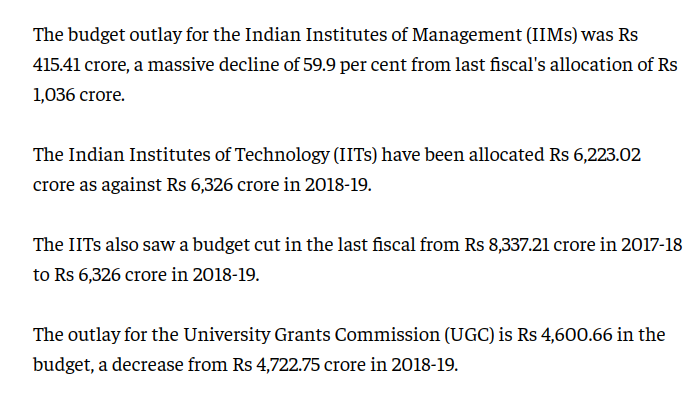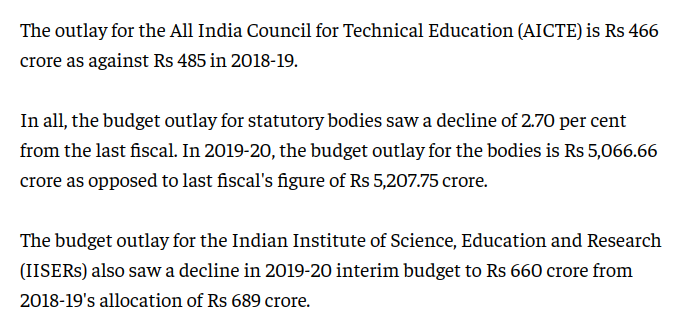 The miserable spending on education and fund cuts by the Modi government makes me skeptical about how fruitful this policy is going to be. The 1968 NEP was hamstrung by a shortage of funds. The previous governments had too set a 6% of GDP target for education but couldn't achieve it.
India is still reluctant to offer Sex Education #
There has been significant opposition to sex education in India, and most of it comes from people belonging to right-wing outfits or those who subscribe to conservative ideas. With the rising numbers of rape and violence against women cases in India, it is high time to offer sex education to the younger generation. The 2019 draft NEP had mentioned to include sex education in secondary schools. But it's very disappointing to me to learn that 2020 NEP has no mention of sex education in it. A big miss!

Point in 2019 draft NEP where sex education is mentioned
The goal of true education #
Here is a meaningful quote,
The function of education is to teach one to think intensively and to think critically. But education which stops with efficiency may prove the greatest menace to society. The most dangerous criminal may be the man gifted with reason but no morals. We must remember that intelligence is not enough. Intelligence plus character—that is the goal of true education.

Martin Luther King Jr., speech at Morehouse College, 1948
True education has a lot to do with learning and implementing morality and ethics in life. And, also having socio-political awareness. It requires a much greater effort to be a better human.